We have all had that feeling where we return back from a vacation, and from staying a luxury hotel, to then getting back to our own home and bedroom, that looks anything but luxury. It just makes you want to hop back on a plane or book another vacation, right? But the thing is, there are some simple steps that you can take to make your bedroom look as luxury as they do in the hotels. It can be much less expensive than you might think to upgrade your bedroom. So here are a few tips and tricks that all interior designers use to add touches of luxury.
Layer Pillows
If there was only one change that you wanted to make to your bedroom, then it should be the way that you style your pillows on your bed. It is an easy win that can have a dramatic effect on the look and feel of the room. A luxury, or considered bed, is one that is always styled and adorned with a selection of pillows or accent cushions. They will pull the colors of the room into them, but make them a bit more of a feature. One small trick to remember is to use odd numbers. Three cushions styled on the center of the bed will look much better than four, won't they? So stick with an odd number of pillows or cushions, and it will look much more luxurious. The more, the better!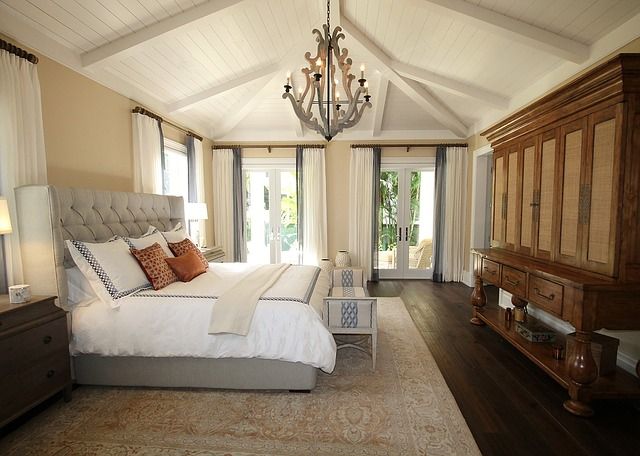 Update Lights and Lampshades
Lights and lampshades can have an impact on how the room looks. If they are too dark or block too much light, then it doesn't exactly scream luxury bedroom. Think of the hotel rooms that you have stayed in and loved. What was their lighting like? Take some inspiration from them and try to replicate it. Many bedside table lamps will come with a bog-standard lampshade. But quite often these can look quite cheap and be rather uninspiring. So one thing to do is to choose a lampshade that you can add onto it. It can make such a difference sat there by the side of your bed if it is much more luxurious and stylish looking.
Style Out Your Clutter
It can be hard to have a bedroom that is completely free from clutter. It just can never happen! But feel free to have a clear out every now and again if you would like. But one thing you can do is to learn to style out your clutter. We all have little bits and trinkets that we like to have on display. But the key is to displaying them well so that they can look stylish. Key areas to look at are things like bedside tables and bookcases. What can be on them that can be made to look more appealing? Of course, you could move some things elsewhere. You could also think about getting some more stylish shelving, or install some floating shelves above the nightstand, for example. Then all of your things are close by and accessible, but they will look much better than just being clumped together in one place.
Switch Your Bedding
One thing that helps us to feel like we are staying in a luxury bedroom is the bedding that we have. Go and check your bedding now. Is it stained? Is it bobbly and worn? If the answer is yes to these things, then it is time to get some new bedding. Egyptian cotton is one of the most comfortable and luxurious materials to have. So California king sheets in Egyptian cotton, are going to be some of the most luxurious on the market. Next is time to look at your comforter; does it do the job that it is meant to? Check the tog count and make sure that it is suitable for the time of year that we're in. You don't want to end up overheating. Second, think about fluffing up the comforter every now and then. The feathers and fibers in it will clump together over time, and that can make it feel flat and look cheap. So fluff up your comforter regularly to make it look nice and full, and you guessed it, fluffy! That applies to your pillows too. Keep them plumped up, and they'll look much more luxurious. It could also be worth looking at getting silk filled pillows too. These can help your skin as you sleep, so if that isn't luxury, then I don't know what is!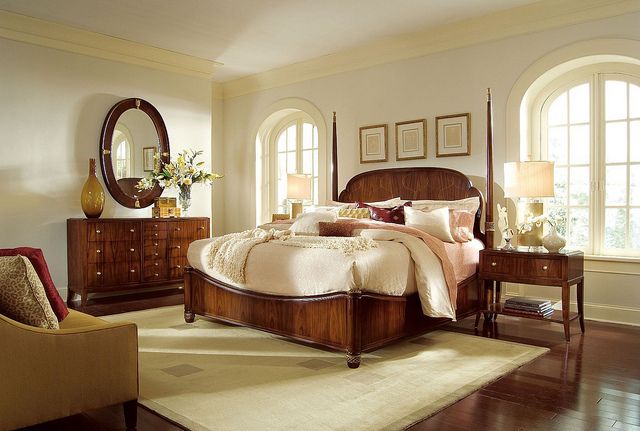 Style with Art
It makes sense to put statement art pieces in the areas of the home that are going to get viewed by more people. So that is why most dining areas or living areas have the art or photographs. But your bedroom shouldn't get forgotten about when it comes to artwork. A large statement piece could set the tone in the bedroom, especially if it is a designer or luxury piece. You could invest in a new piece, or just move something from another part of the house for the bedroom.
Rethink Your Curtains
When it comes to ready-made curtains and curtain poles, they can really cheapen a room. They might be easier to source, but it doesn't give the look of luxury. One thing that you can do is to scout out curtain poles that fit the windows in your bedroom exactly. It could also be worth getting long drapes that basically touch the floor. It looks much more stylish than having curtains or drapes that are cut short and don't hang well. Some of the most stylish bedrooms use a roller blackout shade that you can adjust to block out the light. That way you never have to touch the drapes. You could have them frame the window, though, using some stylish and modern curtain pull-backs.
As you can see, it doesn't have to mean completely redecorating to have a bedroom that looks luxurious. It can simply mean styling things differently, or adding in some artwork. Are there any other suggestions that you think work?
contributed post