Has everyone forgotten the joys of a well-managed and beautiful garden? It seems like nowadays, we treat our gardens like a second bin, dumping everything from expensive power tools to kitchen appliances and toys, leaving them out to rot in the rain instead of recycling or disposing of them properly. But what's the point? Why do we treat our gardens like second class citizens, yet we spend so much time prettying up every single room in the house. Your backyard is still part of your home and there are so many benefits to improving it that you're essentially wasting money if you don't use it. In fact, why not get an apartment instead if you neglect your garden?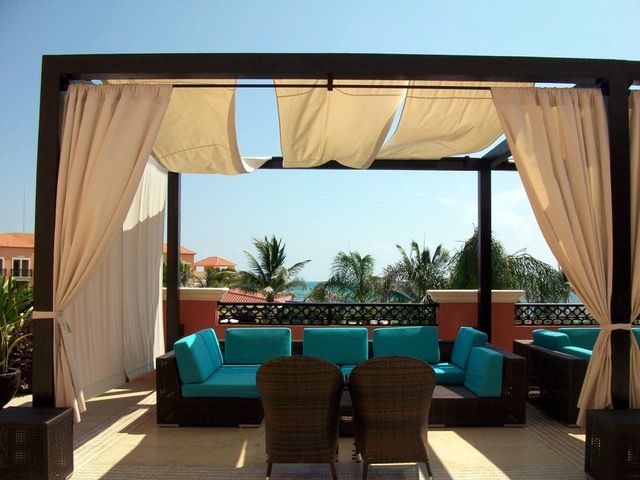 But it's fine. It's understandable that not everyone has the time to water and manage plants or even the money to hire a professional gardener. Yet still, that's no excuse not to ditch your garden and leave it to rot, forever closing the blinds and locking the patio door so that no one wanders into the mess that is your backyard. So here are a couple of tips on how you can be proud of your garden, to a point that you'll want to keep those curtains opens and you'll want to invite friends and family over for a lovely barbeque dinner.
Style your patio
Your patio door isn't an entrance to just green grass and nothing else—your patio should lead to, well, your patio! Get a lovely roof to give you shade and protect you from rain, buy some beautiful outdoor furniture (not the cheap plastic rubbish that everyone has) and consider installing an outdoor kitchen range or get a shiny new grill so that you have a place to cook and serve people food even when the weather disagrees and starts to rain. There are services like Great Aussie Patios that will help you design the ultimate garden patio and turn it into something that you can be proud of. Don't neglect your garden and don't be scared of introducing some style.
Use your garden to grow veggies
What better way to cook than plucking fresh seasonal vegetables, herbs and fruits from your garden? You don't have an unlimited choice of things to grow, but you can at least grow basics like cucumbers, broccoli and cabbage. It will give you a reason to clean up the mess in your garden and convince you to look after your small patch of farmland.
Use nature to brighten up your garden
Your garden should be the embodiment of nature and you should be displaying all of mother nature's bounty instead of introducing too many artificial manmade items. For instance, why not use natural stones to build a path? It looks amazing, it's not very difficult to do, and it adds a wonderful natural feel to your backyard that is otherwise difficult to achieve. You could also plant a couple more trees, allow the plants to grow and climb around your house (within reason, of course) and even replace your wooden fences with hedges.
contributed post