Let's be honest – tending to ornate, flowery gardens is back-breaking work. For many of us, it's more hassle than it's worth because we only get out there to enjoy it for a few weeks of the year. We would all love a yard or back garden that offered a gorgeous view as well as the perfect space for entertaining and relaxing. So how can you set this space up to be hassle-free but still lots of fun?
Don't be afraid to have the features you want. If you want a water feature but you're worried about cleaning algae and other nasties, then find solutions like a Blanket weed eradicator that gets rid of it, hassle-free. There are plenty of natural ways to keep the yucky stuff at bay without harming any wildlife or being a bother to the rest of your garden. If you love fish, go for it! Install a pond, (or hire a specialist to handle it), and take pride and pleasure in this wonderful focus for your outdoor space.
Most of us are aware of the problems of artificial lawns. Many cheaper brands can be quite harmful to the environment. But they're hassle-free, so we lay them down to do away with the mower. The problem with mowing is all the messing about with gas or cable to power it. Fortunately, there are plenty of excellent battery-powered ones on the market now. No mess, lighter machine, and cheaper to run. If you really hate having to do it, then go for a robot mower. Just like robot vacuums, they go off and do their job while you're sipping cocktails on the patio!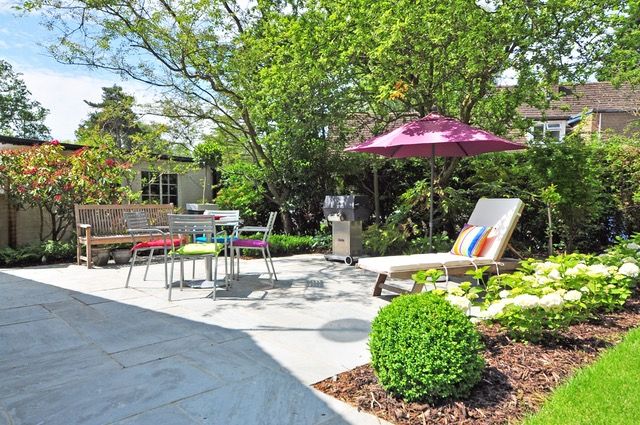 Speaking of patios, slabs may be cheap and easy to install yourself, but they don't tend to look good forever. All that washing and scrubbing and re-laying is a hassle none of us want. Even though it can cost quite a bit more money, a composite patio area will last decades, and the installers will leave a professional finish. Use a leaf blower to clear the debris after winter, and it's ready for your first garden party or barbecue of the year.
Flowers look good and smell great. The trouble is, they don't last long and then leave a mess all over the flower beds. If you love a colorful floral display all year, then plant in pots. They are easy to move so you can swap them every month for the next one with blooms. They're also less prone to weeds, sparing you another much-hated task in the garden. A little research online will give you the choices for planting each month. Then just sit back and enjoy.
Whether you keep your furniture on the patio or the deck, you're going to need to clean it every day before you sit on it. There are two ways to tackle this. You can use a power-washer to take the hassle of scrubbing out of the equation. It may need towelling dry after, though. Or you can choose furniture with removable cushions. Simply store them in a weatherproof container overnight. Love your garden.
contributed post