No matter where you live in the world, there will always be some point in the year where you experience warm weather. For some, it means weather that is hot, hot, hot! For others, it might mean just warmer than normal with some bright sunshine. Either way, our lawns, and gardens will be affected when the temperatures get to the extreme. So how can we help our gardens and lawns to deal with it? We don't want all our hard work to go to waste, right? Here are some top tips for helping your garden in the warm weather that should be coming in the next few months.
Use Shades
If you grow vegetables in your garden, then you'll know that the temperature of your garden can affect how well the vegetables grow. In winter, using things like a greenhouse can help you get to the right temperature. But in summer that can just be amplified and can almost be a little detrimental to the cause. So using things that can shade your plants, especially for things like tomato plants, are a great idea. Netting, stands, or even boxes with holes in can help to provide some shade. Obviously don't cover them up completely. Just help to keep the temperature of them down a little.
Choose Different Plants to Grow
It can be a good idea to write down what you currently have growing in your garden; both flowers and vegetables. Some will be well suited to warmer temperatures, and others won't be. If you need to pick some more heat-friendly shrubs or vegetables, then you could choose to go for things like lima beans, okra, and aubergine, for example. If you don't get too many weeks of hot weather, then something like butternut squash can be a good option for growth during the summer. Simply because it doesn't need too much heat, but equally doesn't like too much cold. This post might give you some guidance in what is best to grow in warmer temperatures: www.sunset.com/garden/garden-basics/warm-season-crops.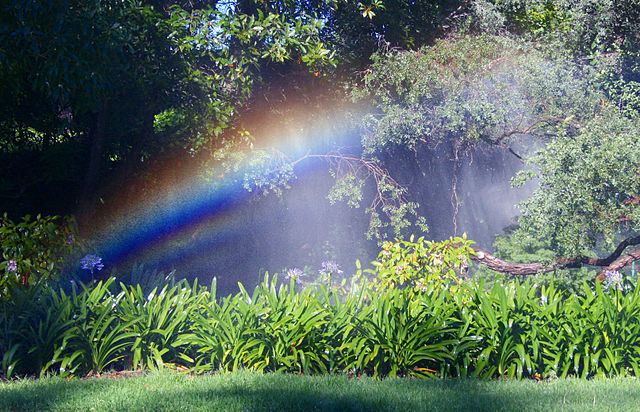 Invest in a Good Irrigation System
In warm climates, having a good irrigation and sprinkler system is key to helping your lawn look its best, and your garden grow as it should. A site like www.proirrigation.com may have details as to why it is so important and the types of systems that are available. So as long as you live in an area that isn't in drought, then why not help your garden along the way? You could get out there with a watering can, but that could prove difficult if you have a large space to take care of.
Use Mulch
Using wood chippings or mulch is a great way to help your garden stay at its best. It helps the soil to stay cool which is really beneficial. It also helps to keep the water in as it doesn't absorb the water in the same way that soil does. So if you have sprinklers, mulch will help to keep the moisture to be more long-lived. The soil won't dry out, and you won't get any cracks as a result.
contributed post