When you move into a completely new home, one no one else has lived in before you, there's an inexplicable urge to make it look beautiful. This is called feathering the nest. You've seen birds do it on the animal channels. They take feathers and soft pieces of material and they make their nests warm and cosy to live in.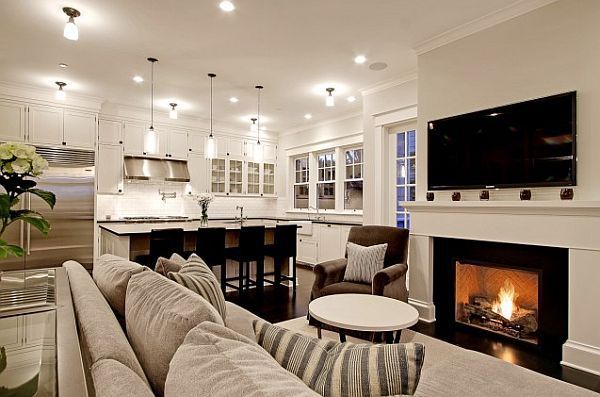 Okay, so you won't be grabbing soft pieces of scrap material and feathers and placing these around your home, but making your house comfortable and cosy is something you'll definitely be doing. You can choose to go room to room to make this happen, or you can just focus on one room to be as cosy as possible. Usually, the cosiest room in the home is the living room, given its use as somewhere to relax. So, how can you 'feather your nest'? What do you need to make your home comfortable? Thankfully, you don't have to make too many financial sacrifices to do it, nor do you have to swap sophistication for comfort. Check out our top nest-feathering tips to make your new home feel lived-in, comfortable and warm.
Think about your entrance hall. Making a great first impression with your entrance is so important for you to walk into your home and instantly relax. Calming, muted tones for your décor paired with soft lighting and rugs can make your home feel inviting. You want your house to scream 'welcome', and a

beautiful hallway

does this.

Fill the empty spaces on your walls with artwork and photos. Obviously, find a balance between overcrowding the space and decorating it. Gallery walls are very 'in' right now, and they say a lot about you!
Warm up the look of your bathroom with the way you colour it. Bathrooms are quite 'cold' rooms in their colouring of blue and green, but if you add in some funky coloured towels and fluffy bathroom mats, you can warm it up. Pop the

radiator on the wall

and create some space in the room to open it out.

Your living room should feel cosy and comfortable and floral walls paired with a

vintage Chesterfield sofa

can do just that. If your floors are wooden, throw a huge rug over the area your seating will go, and give your toes something luscious to sink into. That open fire that graces the room may not work, but installing a fake fire can make it look beautiful!

Your bedroom is the place you go to for the maximum comfort, and so layer with throws and extra pillows. Bolster the top of the bed and add a cushioned headboard so you have the ultimate softness. Keep the lighting dimmed and swap using the ceiling light for lamps to give it a glow.
There's nothing as satisfying as decorating and furnishing your own home to your tastes. Being able to get your house exactly how you want it is a privilege so get that thinking cap on – you've got some designing to do!
contributed post