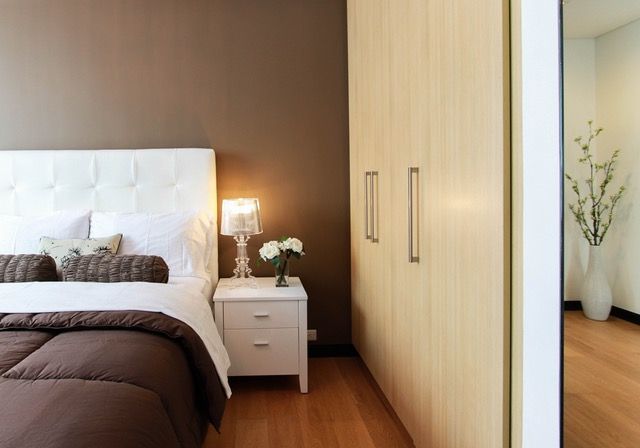 Clean, spacious with high-end fixtures and fittings- it's no wonder sleeping in a luxe hotel room is such a treat. But what if you could emulate the same kind of finish in your own space, and go to bed every night in a room that feels just as sophisticated? Here's how you can transform your bedroom to feel like a stunning high-end hotel.
Deep Clean and Declutter
You won't find a spec of dust in a luxury hotel, so to create the same feel you'll need to keep yours spotless too. Having a clean and tidy room allows you to avoid allergy symptoms and is also beneficial for your mental health too. A messy and cluttered space isn't a calming environment, so it's worth spending a little extra time getting it up to scratch. Having a declutter is also important, if you look at a hotel room you'll notice it's homely without being overly personal. Decorate with some art, plants or flowers and a couple of pretty display pieces. Tons of personal items out on display will disrupt the clean lines of the room. Use good storage solutions such as containers and drawer dividers to keep practical items easy to grab, but out of sight.
Redecorate
Grubby handprints around light sockets, scratches from moving furniture around and marks left by pets or kids on the walls are a quick way to bring down the look of the room. A quick once over with a paint roller can give you a nice clean, blank canvas and contribute to the high-end appeal. Go with light, neutral colors which are calming and make the room look more open and spacious.
Get The Bed Right
There's one thing all luxury hotel rooms have in common and that's a good bed. Go with the largest size you can get away with in your room- a super king will really allow you to stretch out and provide the ultimate in comfort. A sturdy base and good quality mattress is always a good investment since we spend a huge proportion of our lives sleeping it makes sense to spend the money here. To dress the bed, soft sheets with a high thread count are a must. Companies like Richard Haworth specialize in bedding for prestige hotels, allowing you to create the same feel at home. Finally, plump pillows will allow you to sleep soundly and also make the bed look fantastic when it's all made up.
Add Some High-End Finishes
Good lighting is one way to add a touch of luxury to your room. A beautiful fitted light or chandelier will look classy and expensive. Matching lamps either side of the bed are also important, spending a little extra will make all the difference. Adding a 'bedroom bench' to the end of the bed works well too if you have the space, it's practical too. Something like a Chesterfield style bench would look stylish. You could even change up the drawer knobs on your furniture to give it a new look, and might even make it look more expensive.
contributed post