My eldest son recently turned 10. He's a tween! And so are his friends.
While it was easy to throw parties for my sons when they were younger, the venue is a big consideration when you live here in Seoul. Apartments aren't that big to accommodate your invited guests. I used to have children's parties when we were living at Trapalace in Mapo-gu. The apartment has convenient amenities including a playroom where we have collected birthday party memories. When we lived for one year in Iloilo, the boys had a birthday party in a hotel. It wasn't hard and it wasn't excessively expensive, unlike here in Seoul.
Now that I have a tween who just had his first double digit age, we decided to celebrate it the big boy way. And this inspires me to share birthday celebrations that you might want to do for your tweens while living here in Seoul (or even anywhere you are). Unlike kiddie birthday parties where they need entertainment (and theme parties with decors, more to make the mommy happy – lol), the tweens can be left on their own. In fact, they have to be on their own to truly enjoy.
Movie Outing
Since our son's birthday falls on a November and the weather is getting colder we decided to have a movie outing for LeRuof's selected friends. "Dr. Strange" was perfect for the birthday weekend. But not everyone at this age is allowed to go to a movie and apparently, not everyone watches this kind of movie yet. My husband and I have no problem about Marvel movies (probably because we have boys). So, before inviting his chosen friends, I had to ask the parents first if they would allow their child.
We ended up with an all-boys outing and the CGV World Cup isn't far from our place. It wasn't hard, at all!
They just needed to release their energy after the movie and the big field in front of the World Cup Stadium provided the wide expanse for their running and kicking.
Rock Climbing
Another boy in my son's class had his own party, too. Outdoors is also out of the question because of the November weather. Instead, boys had a great party doing rock climbing!!!! The Koala Climbing Gym at the Nuritkum Square here in Sangam-dong offers rock climbing lessons followed by free play.
I didn't know that this rock climbing gym exists here in our neighborhood. I could always bring back the boys here!
After the rock climbing, the celebration continued at the Crystal Jade restaurant at the MBC Mall. And since the Digital Media City has wide, open spaces, the boys continued to play until they all admitted it was time to call it a day
Watching a Soccer Game
The coolest birthday party our sons went to, one celebrant decided to have a live soccer match celebration. Some of us attended and helped distribute simple snacks to the kids. Both boys and girls loved it. With so many people around, I say kudos to the mom of the celebrant. But our mommy-friends are always helpful so we extended a lot of assistance in keeping the children together.
If you also want to have a live soccer match party at the World Cup Stadium, you may either get a VIP room (which is uber expensive!) or get seat reservations at the West Wing. Unlike the other sides of the stadium, this one has long tables for each row where you can put your food and drinks.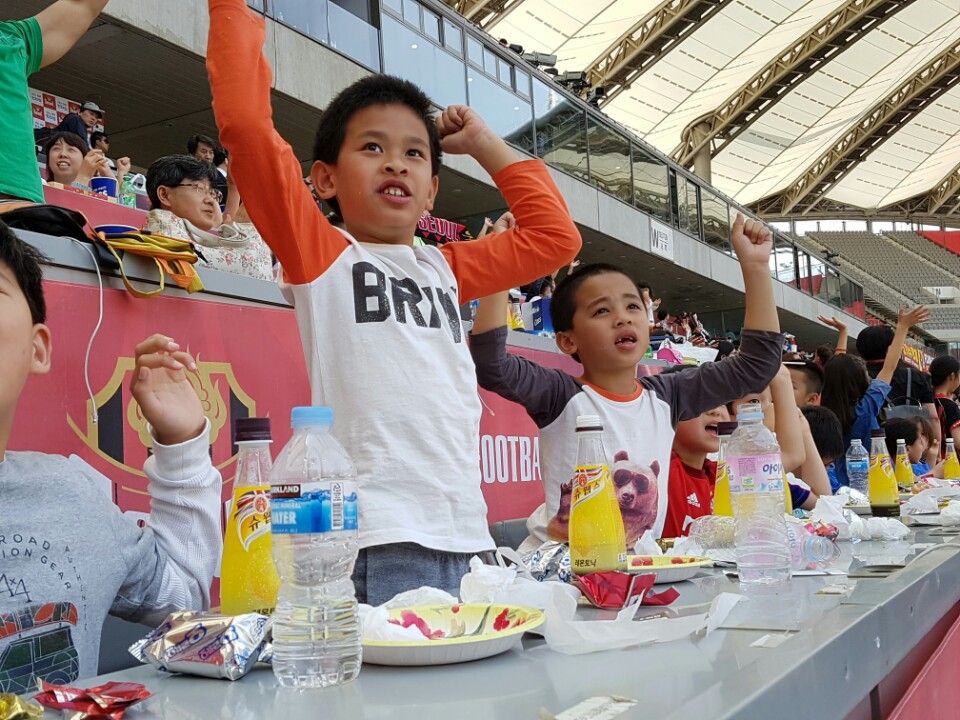 So there goes! These are just a few ideas that you could have for your tweens' birthday party. If you happen to know suitable events or venues, do let me know, too.