Sulyapinoy is a Filipino publication that comes out monthly for the Filipino community here in South Korea. It is the official publication of the Filipino EPS Workers Association. But thanks to its Chairman of the Board and its Editor-in-Chief, my son had his first article published.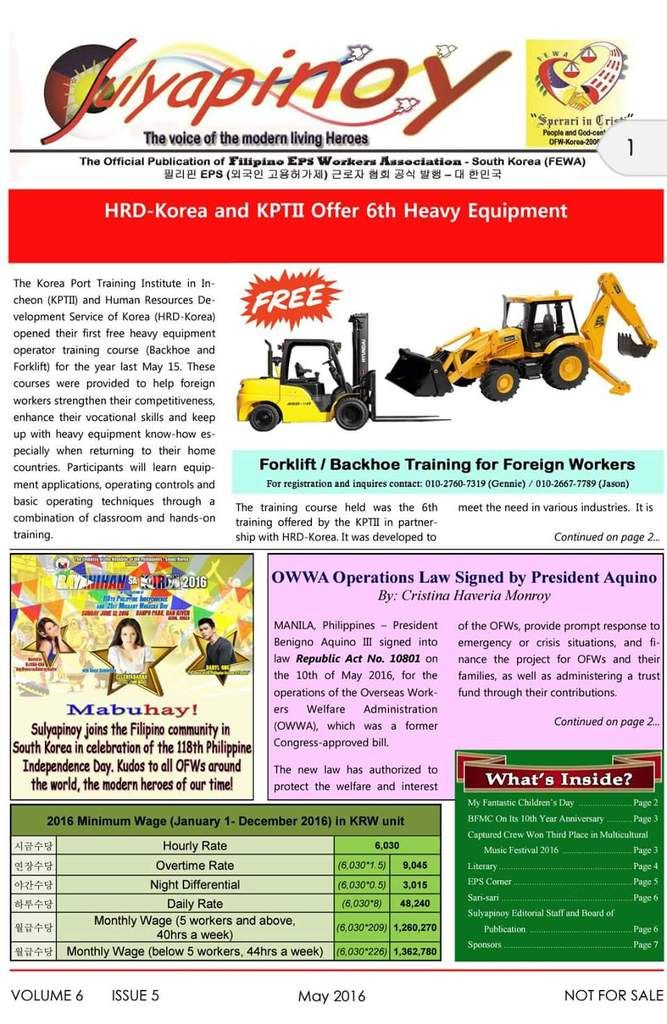 LeRuof, my 9-year old Firstborn son, wrote about Children's Day here in Korea (celebrated every May 5th) and how he celebrated it this year.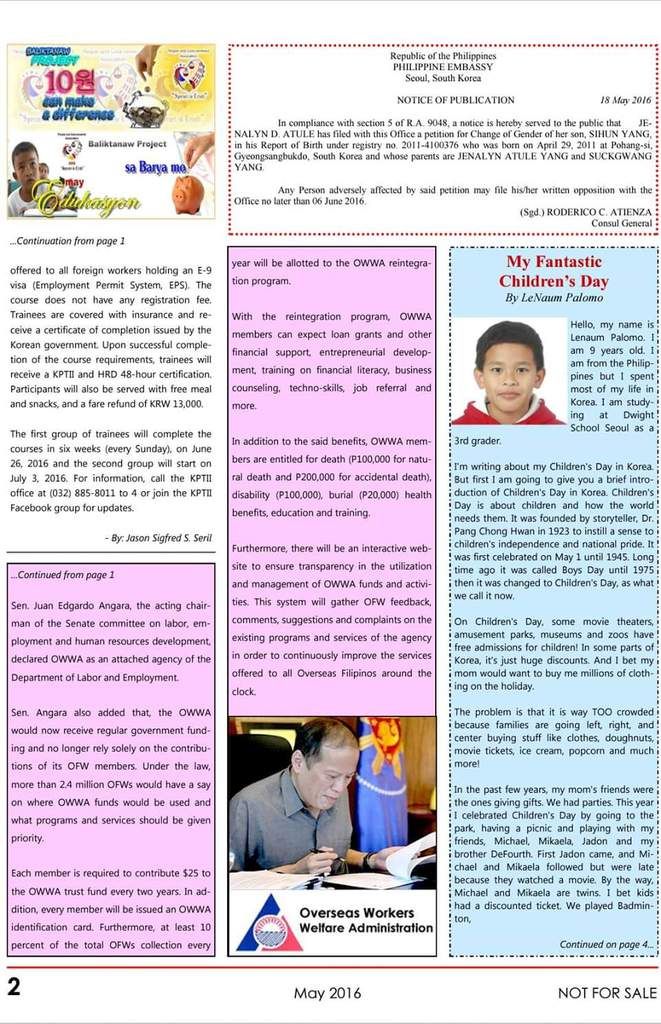 Here goes the full text:
Hello, my name is Lenaum Palomo. I am 9 years old. I am from the Philippines but I spent most of my life in Korea. I am studying at Dwight School Seoul as a 3rd grader. Im writing about my Children's day in Korea. But first I am going to give you a brief introduction of children's day in Korea. Children's Day is about children and how the world needs them. It was founded by storyteller, Dr. Pang Chong Hwan in 1923 to instill a sense to children's independence and national pride. It was first celebrated on May 1 until 1945. Long time ago it was called Boys Day until 1975 then it was changed to Children's Day, as what we call it now.

On Children's Day, some movie theaters, amusement parks, museums and zoos have free admissions for children! In some parts of Korea, it's just huge discounts. And I bet my mom would want to buy me millions of clothing on the holiday. The problem is that it is way TOO crowded because families are going left, right, and center buying stuff like clothes, doughnuts, movie tickets, ice cream, popcorn and much more!

In the past few years, my mom's friends were the ones giving gifts. We had parties.
This year I celebrated Children's Day by going to the park, having a picnic and playing with my friends, Michael, Mikaela, Jadon and my brother DeFourth. First Jadon came, and Michael and Mikaela followed but were late because they watched a movie. By the way, Michael and Mikaela are twins. I bet kids had a discounted ticket. We played Badminton, Soccer and also Catch! I also played the BEST board game ever called Cribbage with Jadon! While the others, Michael and DeFourth were playing catch With Tito Tony using an American football! Mikaela was watching a badminton match between Tito Al and Tita Marjohry.

I think Children's Day is a fun and peaceful event. I am looking forward to next year's Event! I hope to go to an amusement park and ride roller-coasters! I could also go to a zoo and see lions! Maybe even watch a movie! Or visit a museum! There are countless places you can go to on Children's Day. Children also get treated nicely at malls! You could have free candy, discount for child's clothing, discount for food! And much more! I hope you enjoyed reading about my Children's Day.