My daily existence these days is far from my university days from more than twenty years ago where intellectual exercises of reading and writing and talking dominate the atmosphere that is, I'd like to believe, typical of a University of the Philippines (UP) environment. So, when an acclaimed writer is available to share his time, the trying-hard writer in me yearns to be around such a brilliant mind so I could suck all the creative juices he brings hoping that I could at least be inspired to patiently sit down and work on that eternally elusive piece of great writing.
When Philippine Embassy's Vice Consul Ella Karina Mitra organized a book-reading event for Palanca Awards Hall of Famer, Dr. Jose "Butch" Dalisay Jr., I asked my husband for a Sunday afternoon off from family last Sunday, the 5th of June.
The book reading was done at the Rizal Hall of the Philippine Embassy Chancery at 3pm. I got to chat with Sir Butch's wife before the book reading started. Ms. Beng is an Ilongga like me so it was enough for me to engage with her in our own Hiligaynon language the whole time. The Korea trip was actually a private trip and a birthday treat for her. It was nice talking to Ms. Beng as we can both relate to Iloilo's progress these days. She has just recently visited Iloilo and I am going back there for a summer vacation this end of June. And look at how many Hiligaynon speakers we have that Sunday afternoon!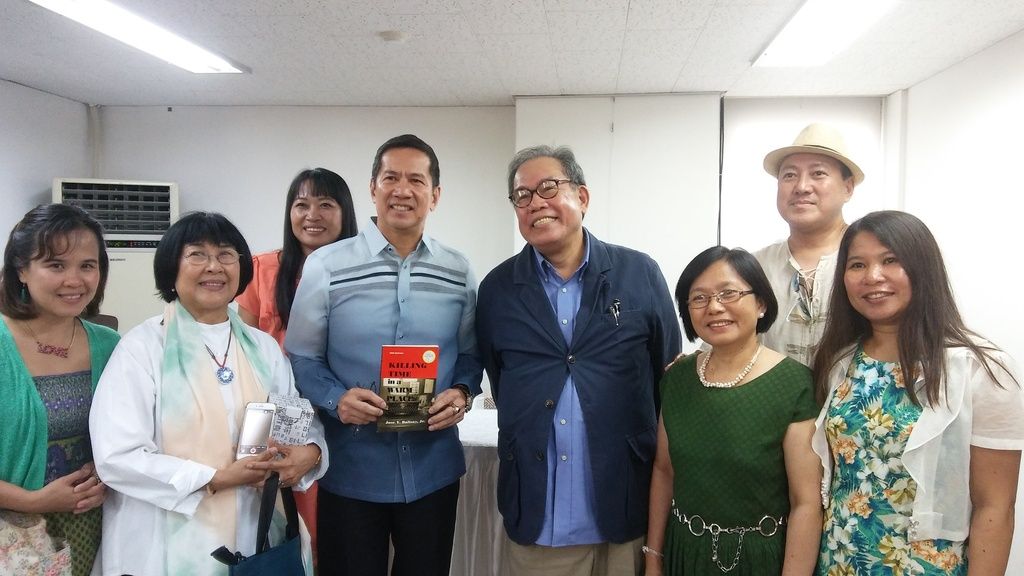 Ms. Lucita Villanueva, the Philippine Embassy-Seoul's Social Welfare Attache is an Ilongga, too.
Dr. Butch Dalisay considers himself a "Swiss-knife writer". He writes novels, plays, movies, and is a regular columnist of the Philippine Star. His column "Penman" appears every Sunday. "Penman" is devoted to arts and culture, his travels, and contains self-deprecating humour when he writes about himself. We all had a good laugh at his readings. He started with an excerpt of his 1992 novel, "Killing Time in a Warm Place" about growing up during the Marcos years. The 3 other readings were articles from his column "Penman". The funniest piece was his 1996's "Goodwill to Filipinos". It's about OFW Pinoys living and working in the US and our penchant for beauty pageants. Today, 20 years after that piece was written, beauty pageants still play a major part of our "culture"… in every place where there is a congregation of Filipinos. And we all know how amusing it gets when beauty pageants are taken too seriously.
My favorite part of that afternoon was during the Q&A that followed. We got to see the "Swiss-knife writer" that he says he is. I had been witness to Nick Joaquin's known eccentricity: drinking ice-cold San Miguel beer before he gets into the mood of writing or working. And we all hear stories about other writers' writing ritual. Dr. Butch honestly admitted not to have this luxury of a ritual. He writes everywhere because writing is also his profession.
"How can we ensure that the Filipino heritage be known to Filipino children not living in the Philippines?", was one of the questions raised. This is closest to my circumstances, as well as of every mom in that room that afternoon. Dr. Butch advised that we have a good number of Filipino Children's books these days and it would be good to expose kids to these. I am encouraged to expose my sons to Filipino works this coming vacation. When I asked my older son (who loves to write) to go with me for the book reading, he asked "Will Rick Riordan be there?". I can't blame the kid. I haven't done any good effort to introduce him to Filipino writings. And yeah, even I stand guilty on this.
And there's the never-ending issue on what defines us as Filipinos. This is one of the 3 main themes of Filipino writers. As Dr. Butch said, our identity (or lack of) is  grounded on 350 years in a convent (Spanish rule as source of our Catholicism) and 50 years in Hollywood (Hello, strong American influence). Another dominant theme is class division. We only have to watch teleseryes and movies and we all know what this means.
So, what keeps Filipino writers from getting international recognition? Our medium (English) is a big factor. Though we are great English speakers and writers, using the English medium to show our culture through written works give it a less authentic impact. So, what we need is a professionally-trained pool of translators who can do justice to translate great pieces from several Philippine languages. We have rich culture from Waray, Cebuano, Hiligaynon, Iloko, Akeanon and other regional languages. I know some people from UP who are driven to preserve these written culture through their writings. Kudos to them!
Wouldn't it be great to next hear of a Filipino writer with an internationally-recognized masterpiece?