All of us want our kids to be happy, healthy and active. They don't need to stray too far from home to enjoy those life essentials. Your own backyard can become the perfect garden for active kids to enjoy all summer long. There are plenty of things they can do out there. Parent-led activities as well and independent play are important throughout their childhood. And your garden can be one of the best settings to enjoy all of it. Here's how to create the perfect garden for children:
Safety And Security
It's important that your garden is secure. It would be devastating if your children wandered out onto the street or stray dogs or intruders got in. Make sure your gate is securely locked with the key removed. Check all your perimeter fencing is intact, strong and secure too. You can't stop the neighbors having a nosy peek at what you're up to, but you can stop people and pets getting in. If you have a dog of your own, you may need to divide your garden, so your dog has his space too. Use a fence with a gate to cordon your child's area off, so no mess can be left where the kids play.
Fencing and Flooring
The type of fence you use is important. Kids like to poke their fingers, arms, legs, and even heads through any gap they find. They are also prone to cuts, nicks and splinters from wood panels. There are plenty of choices in metals and plastics you could explore for this purpose. Delicate skin can also be grazed by concrete and play bark when children tumble over. Artificial grass can be a great alternative as it won't get muddy when it rains. Real grass is good too because it is soft. It may be better for your garden environment too. Play mats may be best for very tiny tots and babies to sit on, crawl on and play.
Choose The Right Plants
Every garden should have lots of great colors, especially when you have children. You can make a game of naming all the different colors you see together too. It could be worth using hanging baskets, so plants and flowers are out of reach of tiny fingers that go in the mouth a lot! And for those kids that love kicking balls, your plants may have a better chance of survival up a little higher. Avoid thorny roses, and plants like oleander that can be poisonous. All plants will need watering. The Smart Consumer recommends hose reels with a range of attachments so you can use water butts as well as garden taps.
Water and Sand
Children love to pour water from one container to another. You can buy water play tables for them to use in the garden. Add as many different shape pots and jugs as you can. And have a towel ready! Children also like to play with sand in the same way. You might have a sand pit with a weather cover on it. Of course, chances are their water table and the sand pit will meet at some point, so be prepared to buy top-up sand from time to time.
Riding and Basketball
Kids really enjoy their ride-on toys. They may have bikes, trikes, scooters and go-karts to play with. An area of hard-standing like concrete or patio is ideal for tearing around with these toys. It can also be an ideal surface for playing a little one-on-one basketball. If you have a path around the garden, then why not use it as a little racetrack? Cycling and roller skating are great activities for developing bodies.
Bouncing
Most children love bouncing. Perhaps your sofa or bed has been the target of their jumping affections? A trampoline in the garden can take up a fair amount of space, but it is one of the best ways for kids to get fit and stay active. You may need to supervise a little more than with some of the other garden activities. Why not join in? There are plenty of good brands that build the garden trampoline to take adult weights.
Swimming
A pool or inflatable paddler is lots of fun on a really hot day. Many parents feel it is safer to be in the water with the kids when these things are being used. If you have a pool, you might also invest in a few floatables like a lilo. They're great fun and kids are being very active. Best of all, they are developing their swimming skills!
Eating
Enjoying a family meal in the garden is great fun. They may also prefer to sit outside with their snacks. Hand hygiene is really important when they're playing out. If you don't want to engage in a battle to get them in for hand washing, why not try a travel bottle of hand sanitizer? If you don't have a dining patio area in your garden, consider installing one. Eating out can be good for the digestion.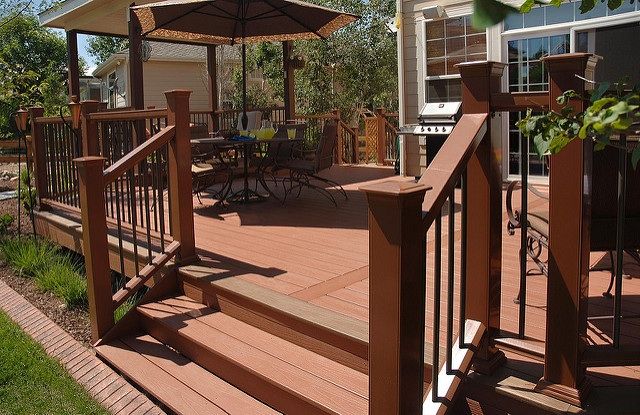 Reading
Reading together in the garden on a sunny day can be a lovely way to relax. You may have a nook in the house. Why not create a little one in the garden. A little shade could be a good idea for the quiet time. It's a break from the heat of the sun too.
Growing and Learning
Your children could learn a lot in your garden. Invite them to grow plants, fruits, and vegetables in their own little patch. Help them plant seeds and bulbs all year round. Then teach them how to water and nurture the soil for the plants to grow. It's a great way to understand more about the environment, as well as encouraging them to eat more healthy vegetables and fruits!
All kids' gardens need plenty of shade to be safe in the sun. You might use a pop-up tent, a parasol, or even build a gazebo over their play area. Sunscreen is a must, but it means your children can enjoy life outdoors being active without the risk of harm. Have fun this summer.
Contributed post