It was December last year when the Ecard system for food waste disposal was implemented in our apartment complex here at World Cup, Sangam-dong.  I didn't know that this system had been in place in other parts of Seoul since 2012. And since I didn't know about it, I had a good reason to be amazed with it! There's still the pungent smell of leftover food but no more manual opening of food waste bins for me.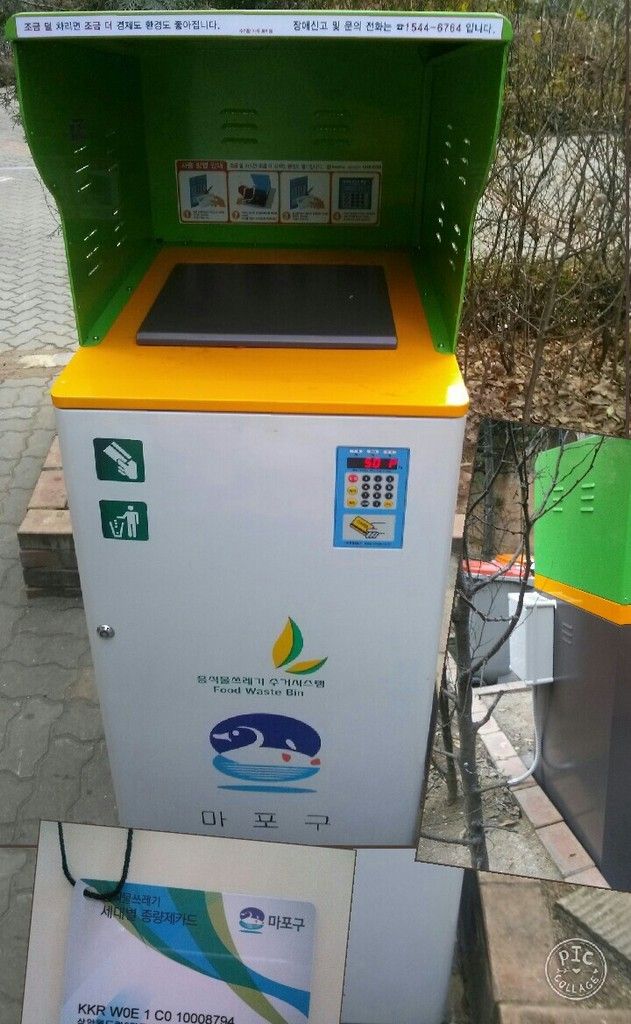 This food waste collection is called the Radio Frequency Identification (RFID) System, a government-initiated system rolled out in 2012. Each complex has this garbage bin/s and each household is provided with their respective cards (inset). The card bears your address and is connected to the billing system of each apartment complex so each household will be billed accordingly for every kilogram of food waste deposited.
How this works is this:
cardholder tags the card and the bin opens.
food is deposited and the screen tells you how much (in weight) you have deposited
cardholder tags the card again and the bin closes
The small screen will always show how much garbage is already deposited inside the bin so home owners would know whether the bin is full or not. Garbage collection is as efficient as the transportation system here in Seoul. These were the two things I was so impressed with the first time I lived here in Seoul 10 years ago.
The bigger inset I included above shows a tube from the bin with the other end on the soil. I assume it sucks out the moisture and deposits it directly to the soil. It's the same with all the other bins around the complexes here. And World Cup is known for its effective landfill transformation which now generates a good energy supply and development of parks for tourism.
For a country known for beautification of its places and its people, it isn't hard to imagine that it can monetize wastes, too. And I mean it in a good way.