Last week, my second-born graduated from Kindie! He's moving up to first grade… in August. Due to the difference in Korea's academic year and the international school academic year, there's a 6-month period that my son needs to wait before he can enter first grade. I will be home-schooling him for the time being.
My son spent his last year in Kindergarten at the 서부 YMCA 아기스포츠단. It's a Kindergarten focused on sports and social development. Just the kind of environment I would gladly trust my child into. From the start, I made sure to my son's teacher that he shouldn't be pressured into the academics of Hangeul learning. I am so glad that she respected that. My son graduated last week from Kindergarten very fluent in Korean (daily exposure to classmates), he can read and write Hangeul (not as excellent as his classmates) and with so much joy knowing that he was loved.
This is the kind of pre-school that I would highly-recommend to anyone who would ask, foreigner or local.
There was a short opening ceremony at the start of the school year. A first for us. I didn't experience an opening ceremony in a Korean pre-school and our 2 sons went to a total of 4 Korean pre-schools.
It was so simple and brief. But the feeling was awesome! It isn't everyday that you bring your son to the first day of his final year in kindergarten… and with an opening ceremony.
If that was an indication of things to come, then it lived up to our expectations. The whole year was conducted with efficiency and the activities were planned out well. DeFourth wasn't able to attend overnight events but it was only because of our own inhibitions as parents. We just feel that he was too young and might cry out in the middle of the night to go home.
As a sports kindergarten, the kids had a daily swimming lesson as part of their curriculum. True to its goal, the daily swimming class ended this February with the students learning the four strokes. An exciting part of their swimming program happened late last year when all Seoul YMCA schools gathered for a swimming competition at Gangnam YMCA. My son happily ended 2nd place in one of the events: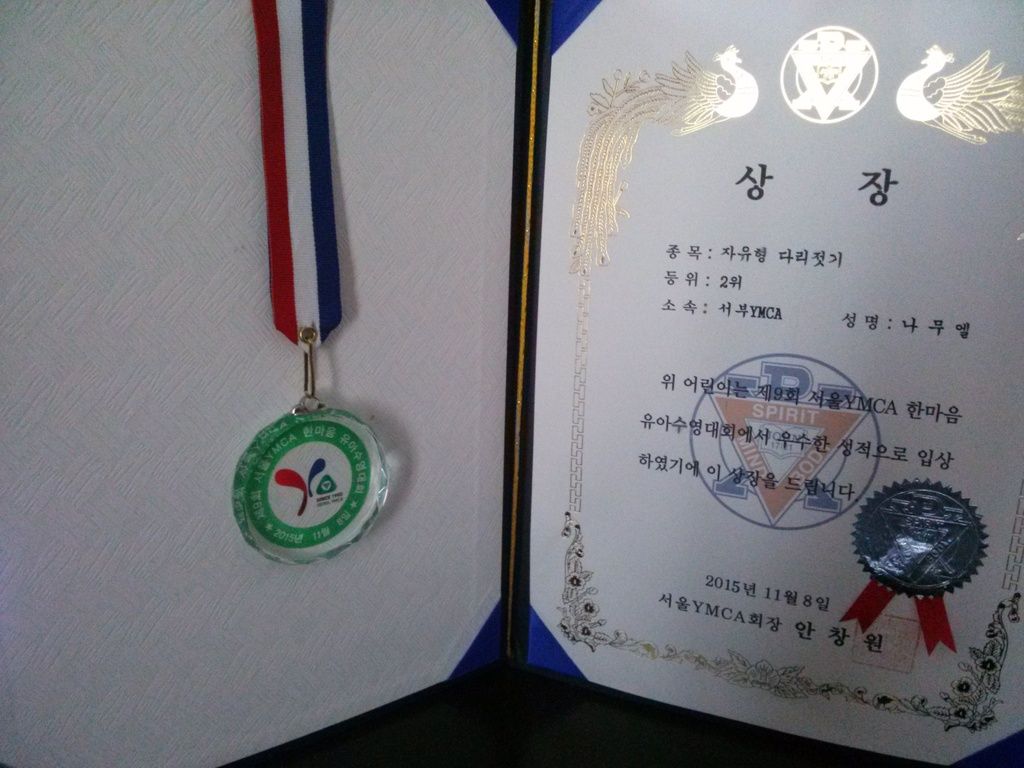 Another major event which made my son's YMCA life memorable was the soccer tournament participated by all YMCA schools around Seoul. It was an all-day event which families took as an opportunity for a picnic. YMCA provided canopies for each YMCA branch and families brought mats, lots of drinks, lots of food and full of support for our babies. Kids went home delighted: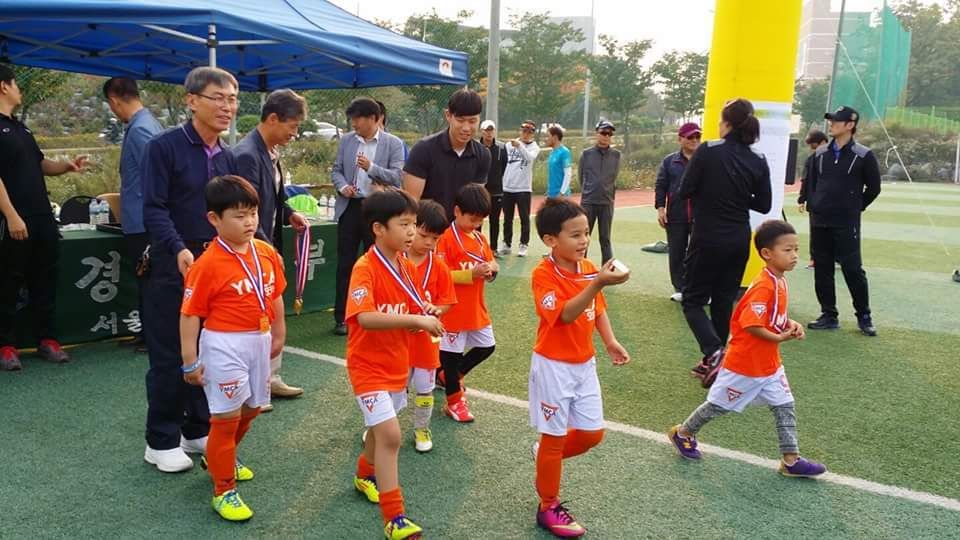 My kindie's happiness was just overflowing. He loves soccer and this is one sport he shares with his older brother.
Aside from swimming and soccer, inline skate classes were done 2x a month. There's also jumping rope classes on top of their gym classes. I like the emphasis on physical and social development. A healthy body and a healthy spirit brings out a healthy mind. I couldn't agree more.
Regular field trips happen as a normal part of kindie life. I admire Korea's security, in general. Here, teachers are not scared to bring kids outside their school for a breath of fresh air. There's always time to go to nearby parks and other educational field trips.
When Korea was blasting with news about the cold wave, they had their 5-day ice class skating class. Amazingly, my son never got sick.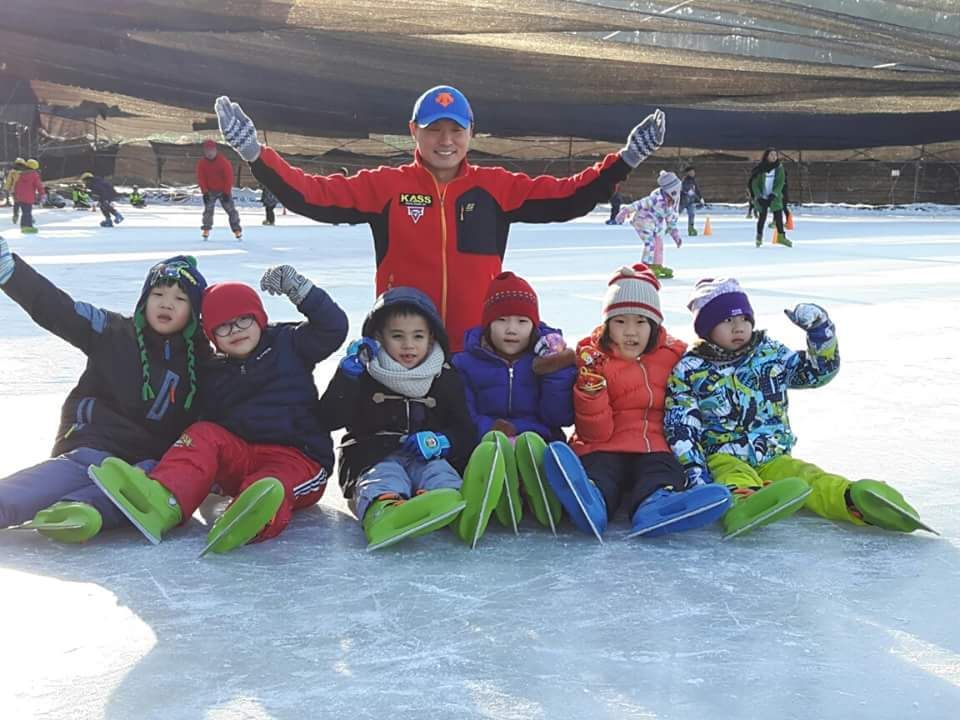 He was filled with stories each and everyday.
My kindergarten graduate got a little sentimental a day before his graduation. While he was practicing the song the graduates will sing to their 동생, he cried… because he was sad. Such a sweetie to feel sentimental.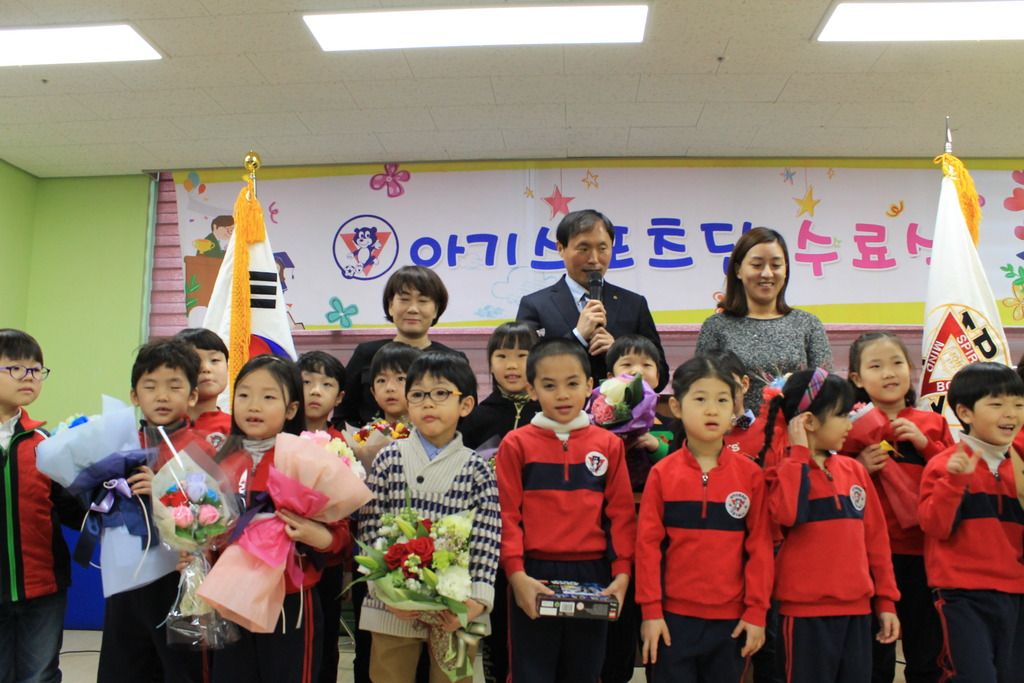 Instead of a bouquet of flowers, he was holding a Star Wars lego set. But my! The bouquets were so nice. Trust these Koreans to make kid-pleasing bouquets. They have chocolates in lieu of flowers. Some have toys as their bouquet accent. Tempting to get one for my kiddo but I knew he was going to be happier when he gets anything Star  Wars-related.
It was a good year from a very caring school. Kudos to all its teachers and staff.
If I am going to be asked, I would highly recommend YMCA. It has given my son a lot of experiences that he can carry on and positively influence his lifestyle. I am so glad we've found this school before he goes on to first grade.