"Mommy, I am a Kid Farmer!" declared my son while he was digging his finger into the soil to put one of the seedlings I handed him to transplant.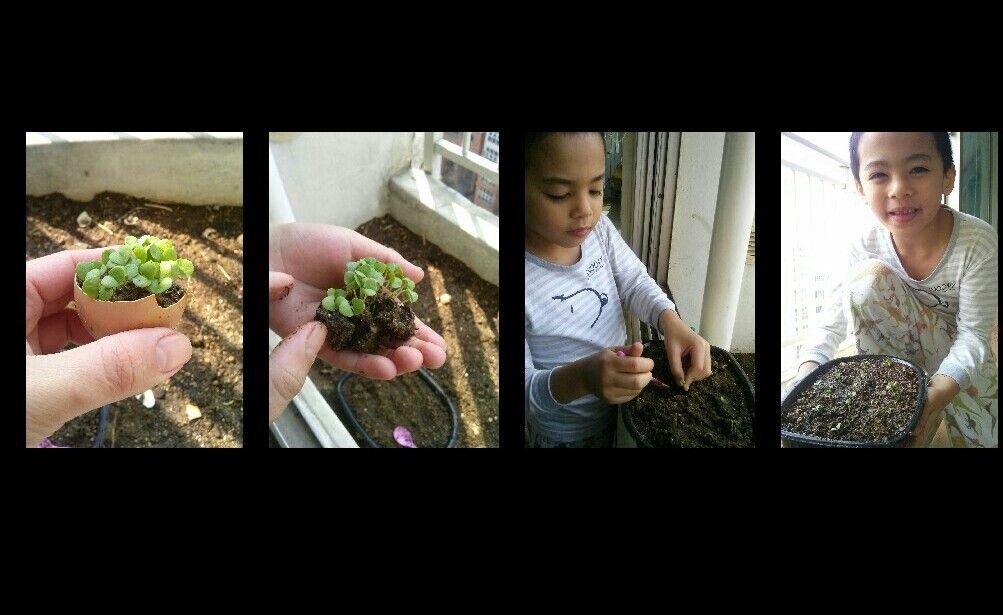 Our veranda has gone a long, long way since my accidental start of veranda farming. It has become a treasure trove of vegetables. I grew potatoes, sweet potatoes, onion leeks, radishes, okra, chili peppers and basil. I loved seeing them grow. But winter came so veranda farming had to hibernate.
Recently, our veranda is back in farming mode because we have been feeling Spring already. My DeFourth makes it more special as we are together every hour, every day. Since he graduated from Kindergarten, I had been (informal) homeschooling him in preparation for his entry to first grade this coming August. He learned about his plants in the most hands-on way possible. We got ourselves dirty and messy!
The seeds I planted in egg shells are ready for transplanting. His palms got the feel of the soil when I cracked the egg (egg shells add minerals to the soil). He saw the roots and understood how they "drink" water from the soil.  He transplanted each basil and he now takes responsibility in watering them every morning.
Yep, it was a messy morning but it was one of the best learnings we both had. For my part, I learned to control my reactions and just let the "messy-ness" of the whole thing go. It wasn't hard to clean up after, anyway.
And my son takes pride calling himself "I am a kid farmer".