I have survived Korea for the last 9 years with my very minimal Korean language skills. It's almost pitiful, hahaha. How can one survive in a foreign country without speaking its language? Over 9 years ago, South Korea didn't have as many English speakers as now. South Korea didn't have the easily downloadable and accessible Jihachul system for easy transport. Google didn't have Google translate yet.
So much have changed, for the better. Until both my sons were ready for school, I would have remained constant. Constantly lacking in Korean conversation skills. I loved it when my Korean mommy friends talked to me in English. That's convenience for me. And not only that, I get to be their free language partner with whom they can practice their English skills. Did I mind? Nope! I valued my convenience, hahahaha.
I have to thank the Director of the Itaewon Global Village Center, Miss Katherine Corteza-Kim, for letting me know about the opportunity to study Korean at the global center. The time slot was perfect for a housewife like me! The class was every Tuesday and Thursday at 1-2:30pm. Just perfect! I started last July and I began as an Absolute Beginner. Over 9 years here and I'm in the lowest level, how's that? Lol!
Fast forward to today: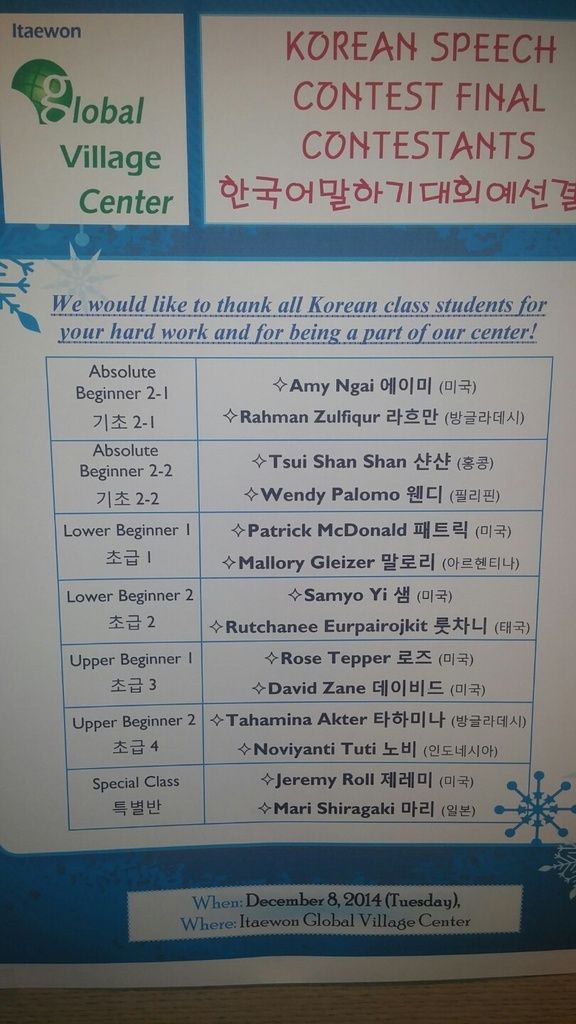 Yeah! I got myself the experience to join the Korean Speech Contest! Lovely distraction from my "housewifey" existence:-). How the final contestants were selected was this: All the students from several classes were asked to prepare a speech. And on the day of the elimination, a panel (surprise!) of judges composed of the 선생님 and the global center head and staffs evaluated our "performance". Two students were chosen from each class to compete for today (December 8, 2015).
What could be a better way to end my second term (and the end of this year) in my Korean class?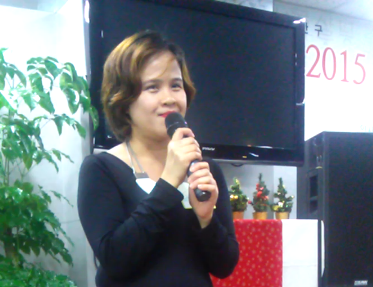 I am still gracefully (!) surviving with my minimal Korean language skills. But to be able to write in Korean (shhhh… It had been heavily edited) about myself and speak in front of a crowd… I claim victory over myself! Woohoo!
Of course, I didn't win. You should have heard the other contestants. They're good! One of the contestants was the Ambassador of Bangladesh. Check his name above. Bangladesh in Hangeul is 방글라데시. Kudos to the Itaewon Global Village Center for this language program. Your class is even attended by an Ambassador. Last term, one of my classmates was also working for an Embassy. Well, the Yongsan district is home to 81 embassies and diplomatic houses. Good job, Miss Katherine Corteza! She is the Director of the Itaewon Global Village Center.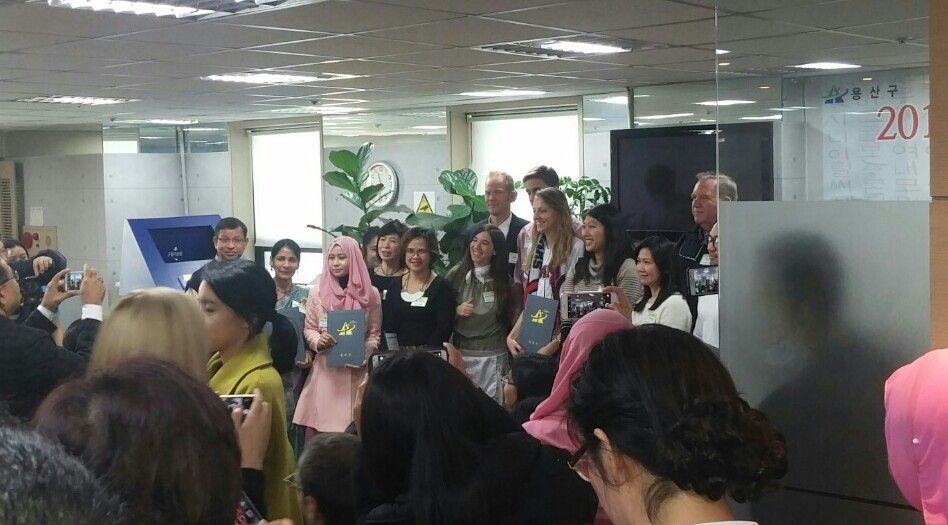 The event was attended by the Mayor of the Yongsan District (photo below). He spoke about how good he was as a speaker back in high school. But he understands that we are not professional speakers so we shouldn't be nervous. How reassuring, hahaha.
An American national won the 100,000-won first prize for our level. He delivered a speech composed of funny anecdotes about his being single here in Korea. Funny guy!
My husband surprised me at the center! He told me he had a meeting so he can't watch me. But he did! Good thing, I brought home this: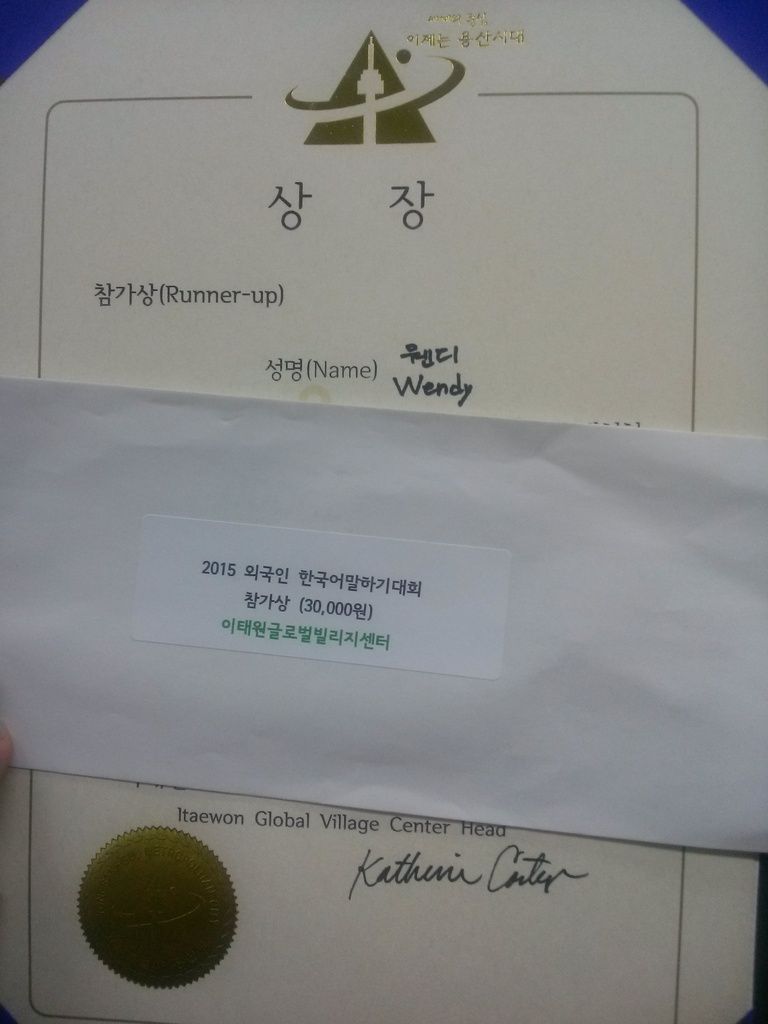 We left the center with heavy stomach because there was a potluck party and we brought food from our respective countries. But since I was 30,000-won richer, I treated my husband for coffee!
And then, my ME time was over. I had to pick up the children.