I don't know of any other place or country that celebrates Christmas as we do in the Philippines. Oh yeah, baby! We start with our Christmas anticipation as soon as -ber month begins! So, everyone's jolly when we first hear christmas carols on the first day of September… Hahaha! And I am not exaggerating!
Korea has improved in so many ways when it comes to the Christmas season. Ten years ago, you can hardly see any Christmas stuff around. In the recent years, Christmas trees and Christmas decorations are everywhere. It's nice to be festive, right?
My family always go home for Christmas to the Philippines. Always. It's different back home. And so, I have never really done any Christmas decoration in our apartment here in Seoul. But I promised myself to give our own little family our own Christmas spirit even if we have to leave for home for the holidays. So, I started decorating our own house with my own DIY stuffs.
I have empty wine bottles in the house since I have become a junk hoarder. So, while my boys were sleeping one night, I brought out the bottles and the paints and paint brushes!
I added tiny cords and a stem full of berries… We're Chrismassy!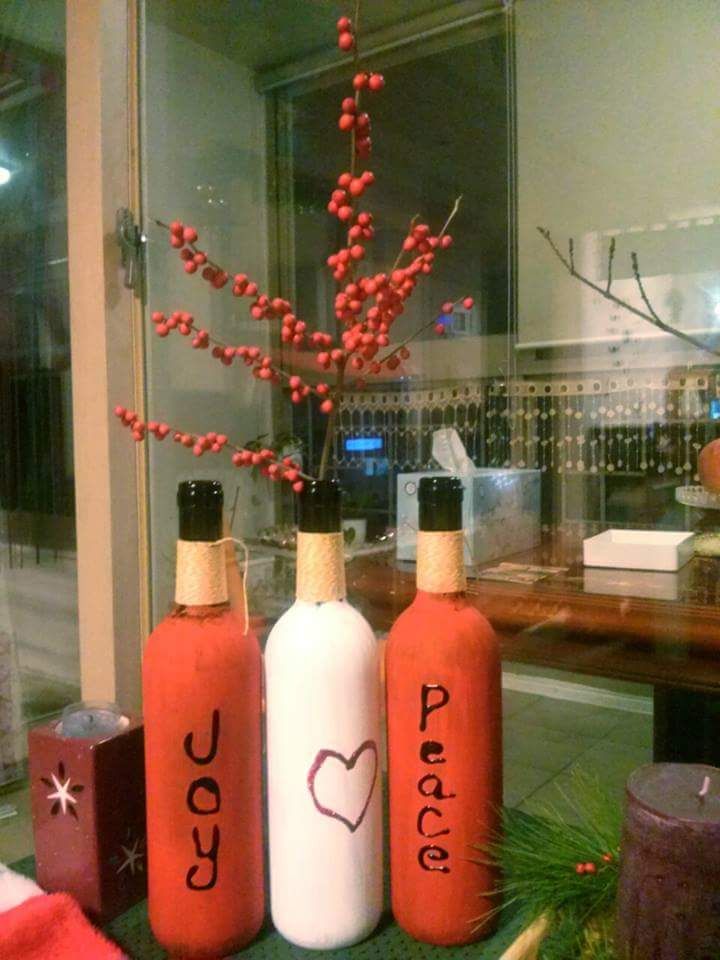 Another bottle got its own twigs and berries, too!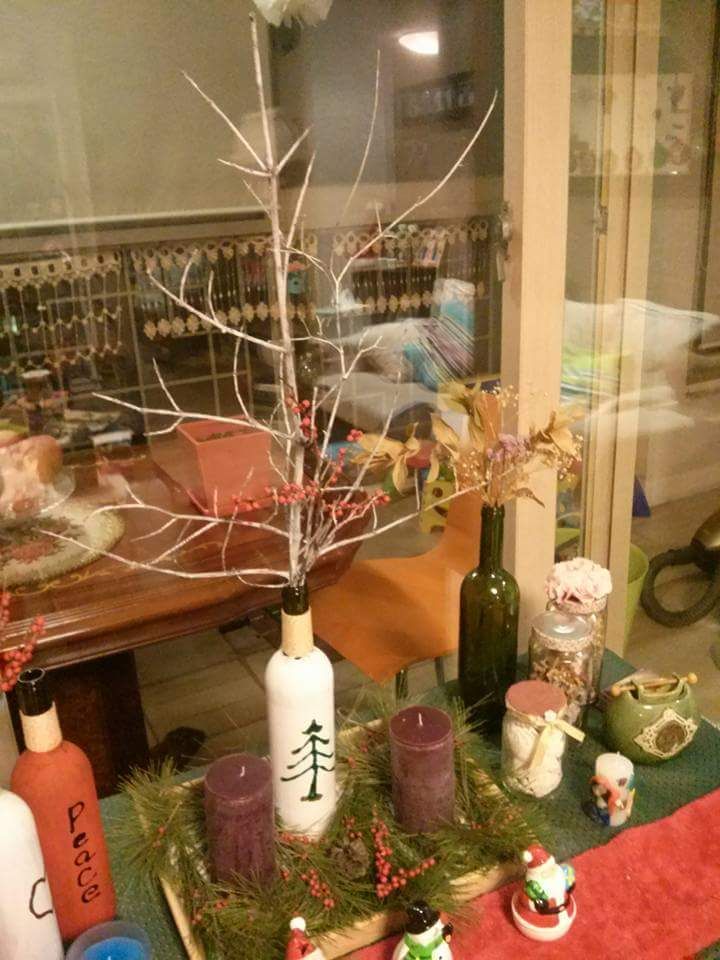 A good friend whose into arts and crafts saw that photo above I posted on Facebook and suggested that I could try wrapping a cord around the candles, too! Thanks to her, it becomes more festive-looking after I added the cords and berries (these red berries are all over the neighborhood).
Twigs and a little paint can create ambiance in a corner:
Thanks to Pinterest and our generous natural surroundings, we got our own Christmas wreath!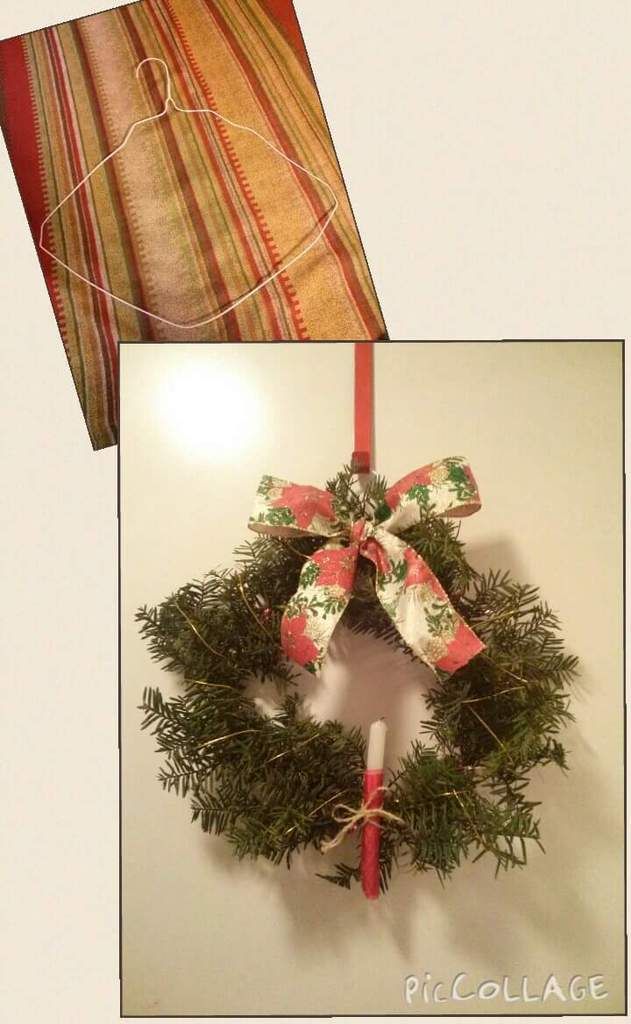 All I needed to have were:
Wire hanger from closet
Evergreens
Christmas ribbon (left-over)
Gold string (left-over)
Used candle from an event
And look at these wine bottles as my table's centerpiece during a Christmas party at the house: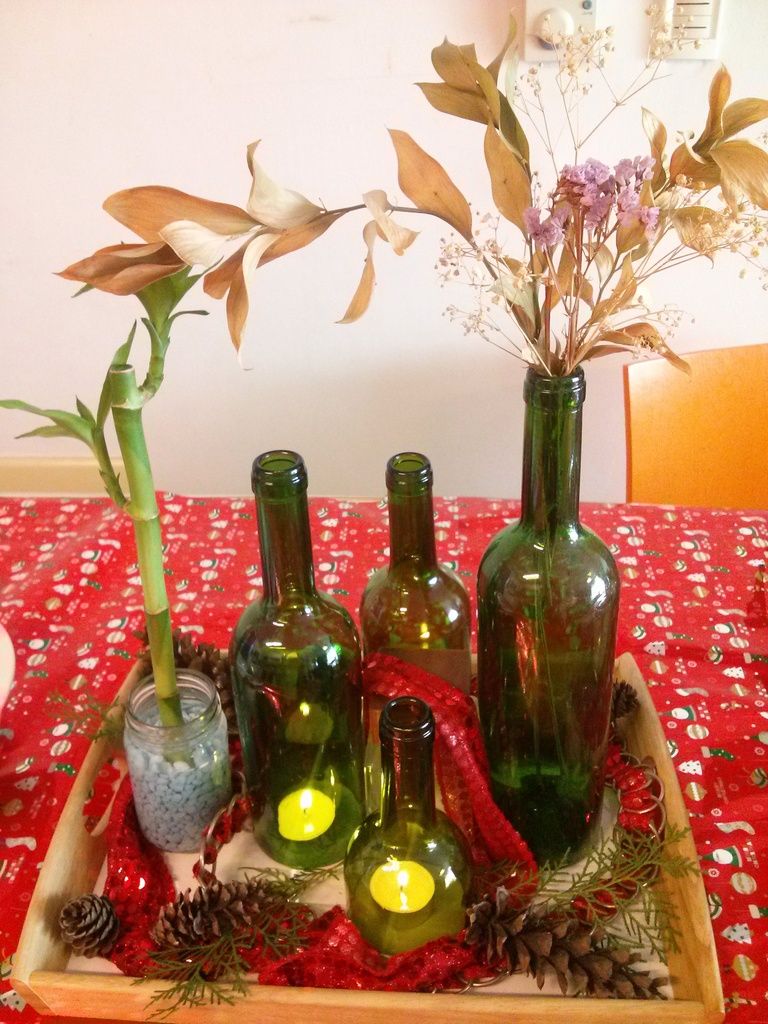 Hubby got this idea from… Pinterest, of course! This is his own initiative and his own work:
Thanks to good friend Joel for taking time to edit the video. He wanted me to upload it immediately but I can't edit it on my mobile so he did! Thank you:-).
Have a Merry Christmas everyone! Me sending a festive spirit of this holiday season to you:-).