The US Embassy held an outdoor reception for the 239th Independence Day celebration last July 2 at the Yongsan US Army Garrison. It was a by-invitation event and you get to have your pin upon confirmation at Gate 13.
While I was waiting for Miss Gennie, my "date" for the night, I saw a diplomatic car bearing the Philippine flag enter Gate 13.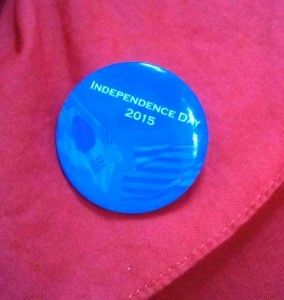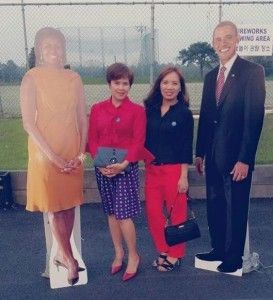 Aside from the fact that this was an exciting deviation to my daily routine as a wife and a mother, it was the trivia about diplomatic cars that inspired me to blog about last Thursday night's event.
I bet not many know about the car plate number the diplomatic cars use. Reality is, who even cares about them? We know they are diplomatic cars when they carry the national flags.
Miss Lucit, our Social Welfare Attache, and the Ambassador himself confirmed that Philippine diplomatic cars here in South Korea bear the license plate starting with 005. And what does this mean? This means that the Philippines is the 5th country to extend foreign and diplomatic relations to South Korea. Now, this made me think about all those times I got to interact with some Koreans who showed their appreciation for the Philippines and the Filipino war veterans who served during the Korean war. No wonder.
The Philippines hold a very important place in South Korea's foreign relations being the 5th country to extend diplomatic relations with the country. So, which countries were the first ones to do the same?
I got this Official List from the Diplomatic Mission Division of the Protocol Office. The list is with their corresponding license plate issued to their respective diplomatic cars (reflects only the beginning of the license plate):
United States of America – 001
United Kingdom – 002 (January 18, 1949)
France – 003 (February 15, 1949)
China – 004 (maintained with Taiwan)
Philippines – 005 (March 3, 1949)
Holy See – 006 (formal relations started in 1966)
Germany – 007 (December 1, 1955)
Italy – 008 (November 24, 1956)
Turkey – 009 (March 8, 1957)
Thailand – 010 (October 9, 1958)
My curiosity satisfied.
Back to the Independence Day celebration, may the Statue of Liberty continue to shine graciously upon us all.