Here's my new mantra:
And I live it as I believe it.
In between house works and mommy-duties, I stole some time to do what I set up myself to accomplish. And it took almost three months to finally finish! I only had to look at this ugly chair to start a panic-attack!
As soon as I made myself to believe that I can change how the chairs look, I went to Dongdaemun Fabric Market and savored every touch and every feel of the fabrics all around me. I tell you, the place is every crafter's paradise. I was dizzily overwhelmed by all the available materials. I got fabrics for the chairs and the curtains (which I haven't even started doing yet!). I chose this material to reupholster the chair.
It took me ages to finish 4 of these chairs. The fabrics were first measured and fitted and hand-sewn. I may have done it the harder way but I think sewing the edges made it look more neat. After several weeks, I did finish all 4 of them!
Yap, I thought I'm done with them and I could go on my next DIY thing.
I found myself staring at the chairs for several days and they were just so incomplete – freshly upholstered seat but has-seen-better-days backrest!
And so I labored for days and weeks again on my hand-sewing. I used the brown fabric I intended to use as part of my curtain and cut the Victorian-floral design from the other fabric and sewed it together.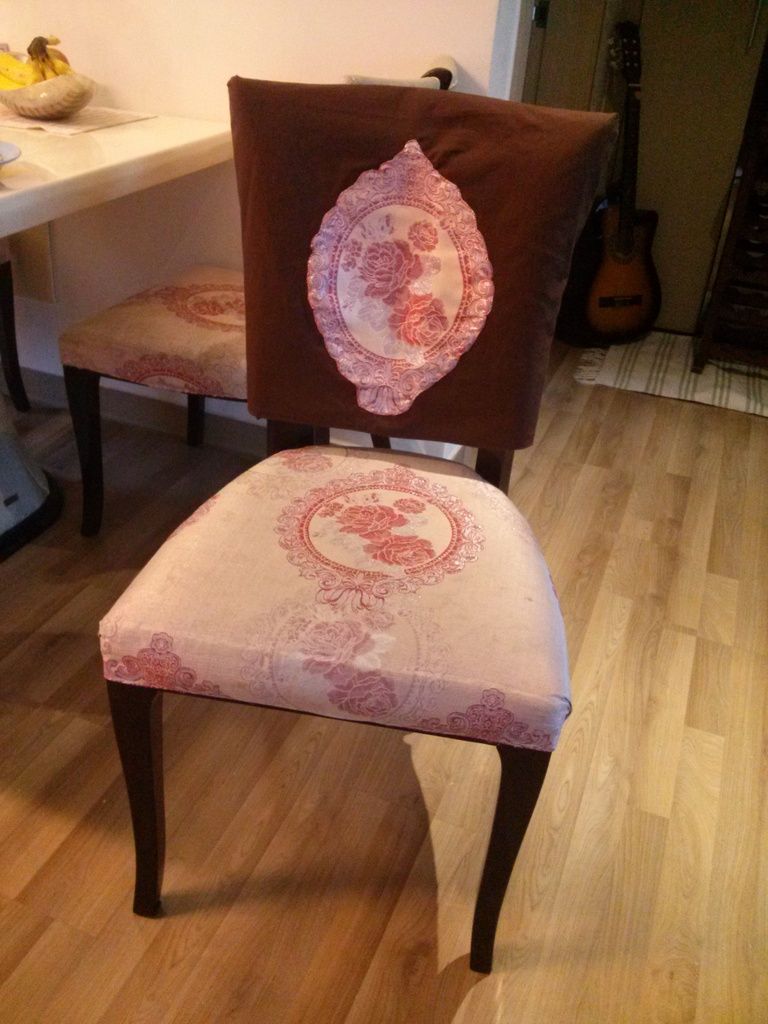 That's one chair done. I got another 3 to complete all 4! With this goal constantly in my mind and with my first son's vacation, the Mommy-me can't think straight and prioritize well. And before I noticed it, the habit began: I would bring my son to a coffee shop, let him read or check on videos or let him practice guitar while I keep myself engrossed in my sewing. And after I patiently hand-sewn everything everywhere, I got them all done!
So, please excuse me if I take a little bit of pride in my first re-upholstery job. Seeing this makes me smile.
How I got them finished and the thought that I was actually able to have the patience to go through it all perks me up to continue doing more. And that means my boys (husband included!) bearing with my mess and my "forgetfulness" with house works left undone. Let me, then, end with this:
Cheers!