Her diminutive figure belies her inner strength. And boy, she has so much of it. Her life and her beginnings here in Korea is a testament of it. We are getting up close and personal with Gennie Kim in this post:
Gennie Kim is the current DJ of the Multicultural Family Broadcast for Filipinos, a multicultural radio program by the Woongjin Foundation airing at Digital Radio KISS and streaming via the internet via Woongjin. For 2 years now, she is also a marriage counselor at the Women's Human Rights  Commission of Korea which currently has 13 counselors, 9 of whom are Filipinos. This 24-hour service for foreigners is available by calling 15771366. They are trained to address victims of domestic violence but the calls they receive range even from the most trivial concerning daily lives to sensitive issues such as working conditions and marital problems and extra-marital affairs.
I first met Miss Gennie when she asked me, together with 3 other ladies of The 601 Habit, to guest in her radio program to talk about our The Lifeboat Project. From that very first meeting, I got the impression that she's one honest, no holds barred person. She tells her life as it is, without pretensions.
Her life here in Korea is one movie material. In fact, she had an offer for her life to be made into one (though it didn't materialize). Leaving her Korean husband in the Philippines and holding on to his promise that he will be following her and their son here in Korea, she came over to live with her mother-in-law in October of 2003. In an unlikely setting where her Korean husband stayed in the Philippines and she, with their son, settled here in Korea with little knowledge of the Korean language, she struggled and became a factory worker. She started assembling brake shoe motors in a Daelim factory.
She candidly talked about her working conditions especially during winters, the working hours and the occasional hunger pangs since she would rather go home straight than eat somewhere after work. Her son was being taken cared of by her mother-in-law. On her first years here in Korea, she dutifully give her salary until one fateful day when she discovered that her Korean husband back in the Philippines was having an affair and got another Filipina pregnant. She worked nonstop since then and engrossed herself for personal development. She became driven as never before.
Factory work wasn't easy but she managed to excel and get noticed in her work. Doing good in her job earned her fellow worker's ire but she kept going and continued to improve herself. She shares with us some of her pictures from her factory work, never mind if these deglamorizes her.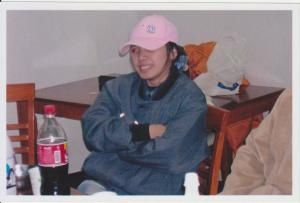 She took refuge in church at FAN (friends of all nations) where she got to meet Filipino church mates.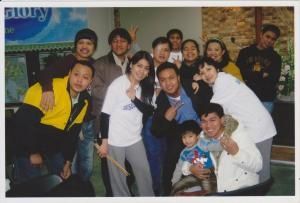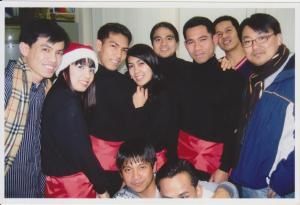 Since she had been gradually making a name for herself here in South Korea, she was asked to be one of the emcees during the Philippine Embassy's 2010 Independence Day celebration  in Incheon. This was where she got to know the Human Resources Development (HRD) Service of Korea and she started working as a translator for HRD Incheon every Sunday. For 4 years now, she had been doing this volunteer work – she also conducts lectures – for workers under the Employment Permit System (EPS).
Her husband finally came over to Korea last year – to ask for a divorce. Less than a month after the divorce papers came out, the ex-husband officially registered his new marriage with his new Filipino wife. After all these years of financially supporting her mother-in-law here in Korea, she comes out of this fate sans bitterness. In fact, she has moved on – after the divorce she transferred to another house with her son – but continues with her relationship with her mother-in-law. She is as driven now as from the time she discovered her ex-husband's infidelity and she has somehow saved some to secure her son's future. She has this to say "Sa ngayon ang tanging masasabi ko na successful ako ay nasigurado ko na ang seguridad at future ng anak ko. Hindi na ako mangangamba sa kanyang kinabukasan. Pero para sa sarili kong kaligayahan, malaki ang pagsisisi ko sa mga pagkakamaling nagawa. At dahil sa ayokong isipin na ako ay lonely o hindi swerte sa tawag ng pag-ibig, binuhos ko ang oras ko sa mga iba't-ibang bagay."
And she does what she says! Her days are filled with work and volunteer jobs. Her main advocacy is for marriage migrants and migrant workers. She has made herself accessible to them for she knows how it is to be in their shoes and she easily relates with them. She doesn't speak rhetorics. She doesn't have the eloquence of politicians but she has the heart of a marriage migrant and a migrant worker. She doesn't put herself above them, she treads their path. And this is where her credibility and sincerity comes from.
Before we called it a day, here's Miss Gennie Kim speaking for the migrants:
Aside from the first picture above, Miss Gennie provided all the pictures used in this post.