What will become of the Filipino language?
Children today can hardly speak straight Filipino. Problem is, they cannot speak straight English, too.
Look at this: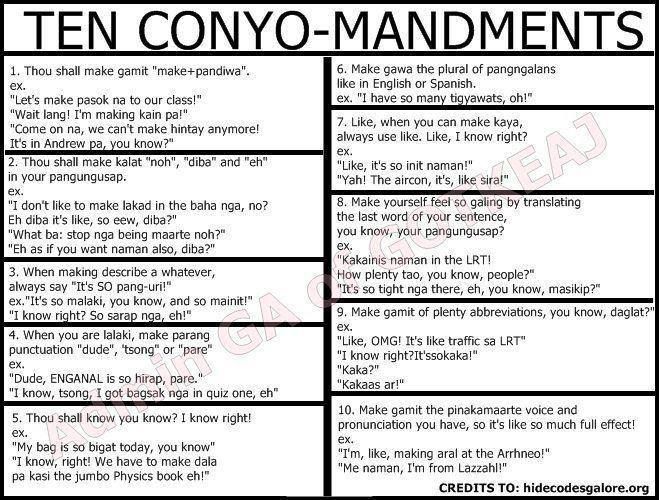 Hello, Atenistas? Lasalistas? hahaha.
We want to make fun of students from Ateneo and La Salle but reality is, this kind of "speaking" is widely-practiced especially by families who want to "keep up" with the notion of English-speaking people as "sosyal" or "conyo". And we might be surprised when the Atenistas and the Lasalistas that most of us are fond of mimicking and mocking are actually fluent speakers than we try to picture them to be. Kris Aquino does not represent Ateneo (hello! But much as I do not like this woman, I am pretty sure that beyond her TV-language, she is a very eloquent speaker). It is the copy-cats who popularize, and sadly, make acceptable, this way of communicating.
The thing is, communication skills goes beyond image. Communication skills is not about being "pa-sosyal". You use language to interact and deliver your message effectively. How, then, can you interact and deliver your message effectively when you cannot even manage to identify which vocabulary belongs to which language?
"Let's make pasok na to our class"

How difficult is it to say:

"Let's go to class". – in English

or

"Pasok na tayo sa klase". – in Filipino

The words used in English are simple. So are the words in Filipino. I cannot imagine how hard it is to put Filipino words together and English words together.
So it offends me when I hear comments why my sons cannot speak Filipino and that I should let them speak Filipino.
It is not that I don't want them to learn the Filipino language. I want them to learn the language, speak the language and love the language. But I want them to learn it right and speak it in the right way, just the way it should be spoken.
I would have to admit that my sons cannot speak Filipino. The older one can understand since he hears me and his Daddy speaking in Filipino but his primary language is English and also speaks Korean fluently. The 2 boys cannot speak Filipino because we live in a country where they have no other source of the Filipino language aside from me and my husband. For practical reasons, my husband and I prioritize talking to them in the English language. Nobody will talk to them here in Korea if they speak Filipino but they get to play and interact with both Koreans and the growing number of the foreign population here in English. Korea does not have a strong English-speaking population where we can rely on with regards to the kids' English-language development. It's different in the US or England and other English-speaking countries where Filipino kids can pick-up the English language  from their environment. Filipino parents can concentrate on speaking to them and letting them learn the Filipino language. It's different in Korea where their immersion includes taking in the Korean language.
It has always been my hope that whenever we go home to the Philippines for vacations, my kids could pick up the language because they are in an environment where learning would come naturally since they are surrounded by fellow Filipinos. After all, it is through their natural environment here in Seoul that they get to learn the Korean language. Sadly, this is not the case. It is seldom that they get to interact with fluent Filipino speakers. The kids in our country have become alienated from our own national language. The reality is, it is the parents themselves who lead by example the speaking of "taglish".
Whenever I try to ask for purely Filipino interaction, some take offense. Reality is, people likes to be regarded as "conyo" or "sosyal" because of their ability to speak "taglish". And I always cringe.
It is in this aspect of my children's development that I feel the need for support (it takes a village to raise a child) and it is in my own country that I am rendered helpless.