The Gyeonggi-Ansan Airshow was held last May 1 – May 5, 2013. The kids and I, together with a good friend, went there last May 4. We came for the airshow… and this greeted us upon our entry:
A sea of people!
This year was the 5th Gyeonggi-Ansan Airshow. I had hoped to get a good position but I was naïve to have hoped. While others were there the earliest that they could manage to get a good spot, our group of 4 arrived after 10 in the morning. Aside from the spectators above, one area had been spontaneously converted into a tent city. These family came prepared:
They must have lined up pretty early!
So much for my hopes of getting good pictures of the airshow. We can't even stay in one place. But for posterity – when I reread this post in the future, I would like to have proof that I, indeed, was able to catch some flight performances – here's one:
And so, as it always happens in almost all our walks together, kiddos desires were again granted… leaving us two adults wishing of things we could have done… had it been minus the kids… lol.
Kiddos excitement started with a blast! and they got it here:
This wasn't a free ride. Each kid I had to pay 5,000KRW. But, look! Even my 3-year old adamantly refused for me to drive the go-kart. He wanted to drive even if it meant struggling for his limbs to reach down so he could pedal:
That was fun for them! But when they knew they will have the chance to be firefighters, their energy shoot up to its highest level. My friend was a very good sport in lining up in various stations where kids could either play or experience being a firefighter.
This was quite high and I thought my 3-year old would not dare to join.
Well, I thought wrong. And that was a high slide!
Volunteers tried to teach the kids how to use and spray a fire extinguisher. They were so cute trying to aim aimlessly:-).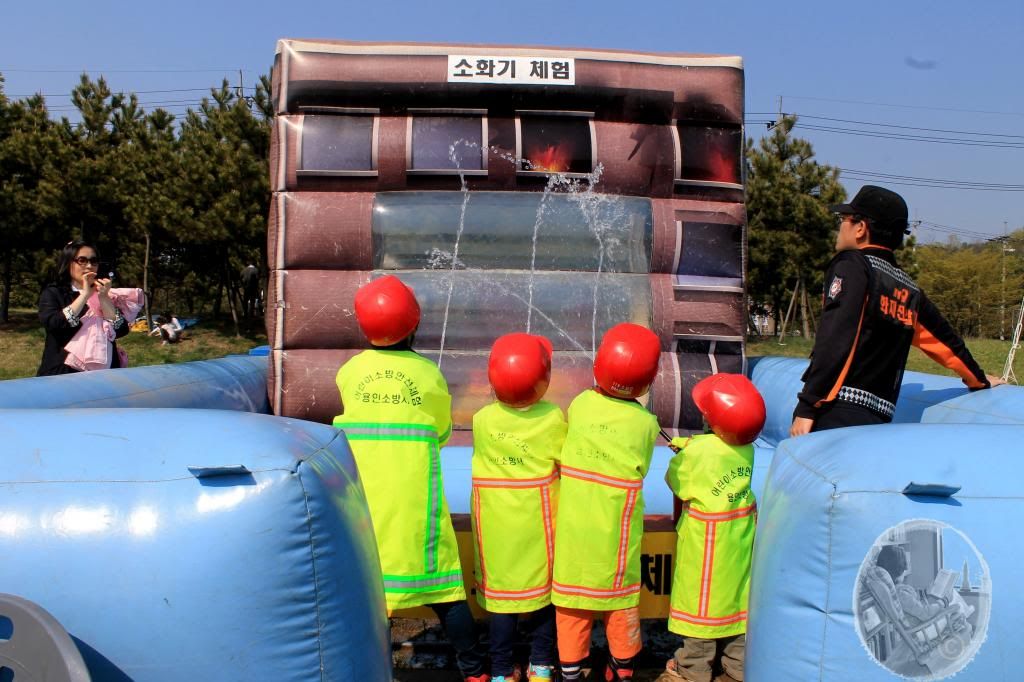 Their big challenge was holding and trying to steady a fire hose with running water… might look like an easy feat for adults, but my kids needed to muster all their strength to do the job.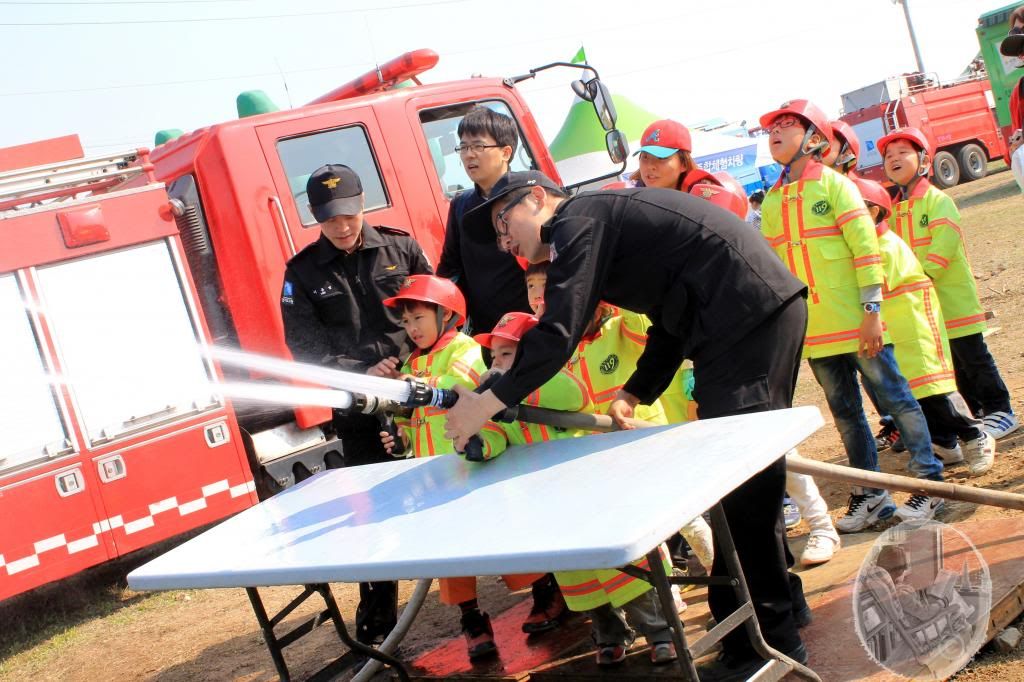 There were other several stations where they had the chance to live through the day of a fireman's work. I had to stop them from getting into stations where they will get soaked. They didn't have extra of everything… just the clothes they had on!
Another favorite was this inflatable bouncer.
I used to call them Little and Baby Dynamos. They still are, even more so!
The best thing about this firefighter experience was it was for free. It was an educational play for the two and for all the other kids out there that afternoon. With the number of kids there, each of them had to learn the value of waiting and taking turns…and it was a tough job for the restless ones!
The kids were disappointed when we came in too late at the aircraft simulation areas. These were also for free. You just have to arm yourself with a lot of patience as there were other people eagerly lining up for the same experience.
The next Ansan airshow event would be next year. That's still a long way to go… but this early, I hope to be there again. And I hope to enjoy the real airshow .