I was born in Iloilo, grew up and studied there until I opted to try Manila after college. And so, from time to time I would love to post something about Iloilo and its people, the Ilonggos.
Let me start with Wawa, a heritage restaurant located at Jaro, Iloilo. I was intrigued with the place the first time I saw it. It wasn't there before. My eyes was immediately drawn to the place because it's a quaint little structure along a busy street I am totally familiar with. It turned out to be a restaurant! And it just opened last year.
It looks like an art gallery from the outside. The giveaway was of course its name. There was nothing on the first floor save for the front display. There's a staircase leading to the small but cozy restaurant space.
I instantly fell in love with the ambiance. I could stay there for hours over interesting chit-chats with girl friends. In fact, for my first time, I went there with Mommy-friends while our kids were at school.
The place is not monotonously occupied by tables and chairs like your typical restaurant. It has small tables for two, a lounging sofa right at the center of the room, a big dinner table with a glass top covering beautiful decorative shells.
This is the dinner table accentuated by a big shell:
I just had to bring my kids there. I told them about this place where we can have a nice, quite dinner date and being a "heritage restaurant" they can learn some things about Iloilo:-).
We were there on a beautiful night and they were immediately drawn to this kiddie table with kiddie chairs: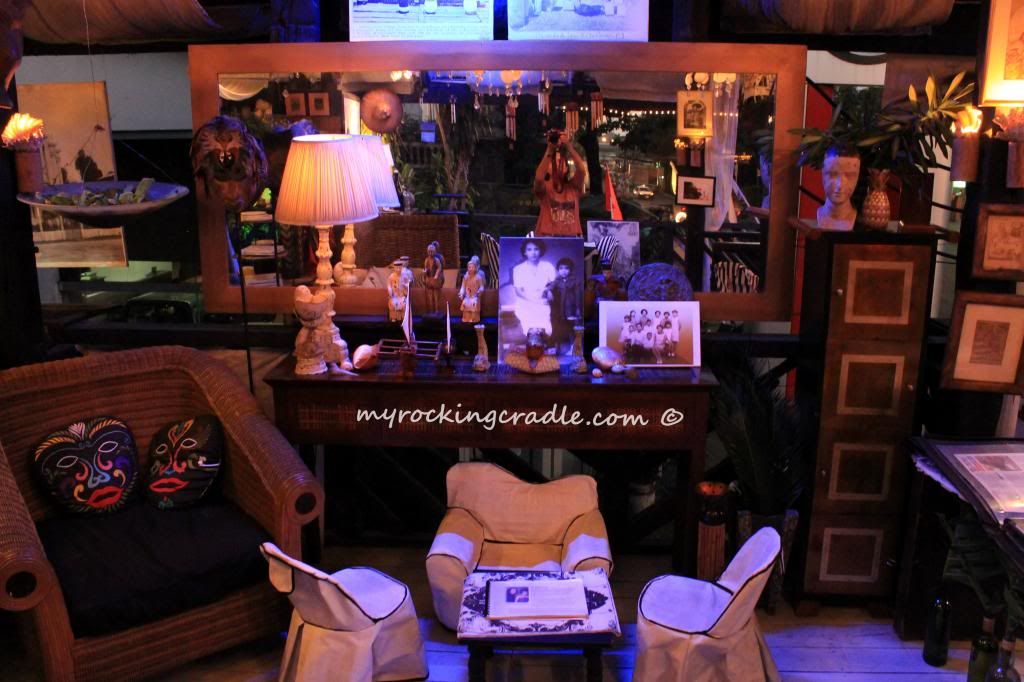 Unfortunately, the kiddie table is too small for my kiddos… The "kiddie size" had been exaggerated a little bit that it's actually not usable.
With too many details around the place, kids took interest with almost everything that they can see. And by everything, I mean all the little figurines, wood displays and pictures. They like the open space as they can look out and watch the jeepneys passing by:
We were there on a cool February night. I don't know how the restaurant feels on a hot and humid summer night. There's no air conditioner, maybe being consistent with its theme?
Nighttime is the best time to visit the place. The chandeliers and the colored lights surrounding the open windows add a romantic ambiance.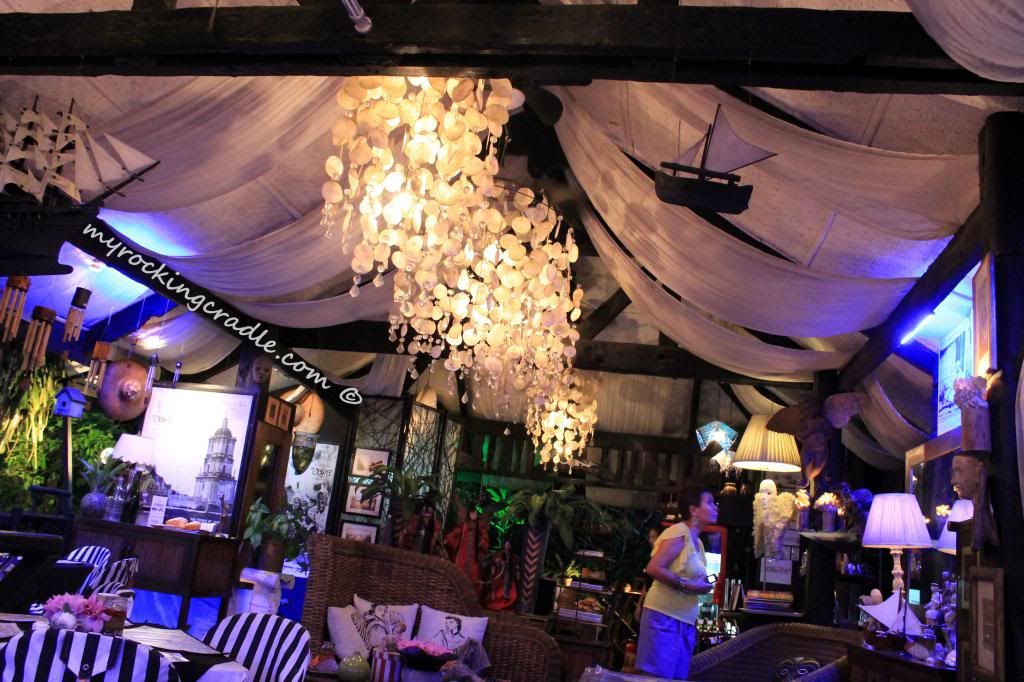 I would say kudos to the designer and owner of the place, PJ Aranador, who obviously spent so much effort in putting details to the interiors of the restaurant. There are pictures around of old Iloilo. There's some history in the menu book! But my! To incorporate history in a menu booklet isn't really a great idea. You feel like you have to go through an academic reading requirement before you can check the menu. I think, the "historical concept" in the menu was… hmmmm, too much.
But, I love the "banggerahan" (the sink) area.
At the other side, there's even a "pugon" used for cooking. One uses a charcoal to use this "pugon" for cooking. I had a good time telling the kids about this.
Below the sink is a little too fancy to be realistic but for aesthetics, it's good enough:-):
Fortunately for us, the dishes we ordered were delicious. We just had to wait a little longer. I noticed there was only one staff serving us and the other customers. I don't know how many are in the kitchen… possibly just one staff, too.
Overall the place has a cozy ambiance. At night, it is even romantic. For its uniqueness and its effort to be different, it's worth a visit. I think I went there thrice. I just had to veer away from the self-importance of the designer and the owner. So, I stopped reading the materials. Instead, I allowed myself to enjoy the sight and the cool breeze.