A good friend, Zel, informed us that the Incheon Airport Railroad Company had a free Korean Music Concert and free ride at the Airport Express Train from Incheon to Seoul Station. Since hubby was out of the country that time and I always want to have activities for the kids, I happily signed up.
The free concert was held at the skating rink inside the Incheon Airport complex.

Since the audience were to seat inside the skating rink, the organizers took extra precaution not to ruin the floor. We were all given shoe plastic covers:
Isn't that neat?
The kids were exposed to Korean music – classical – and dance. I was actually a little bit nervous that they might throw in some tantrums over boredom… They didn't. I'm so happy they didn't. I wouldn't have known what to do if they did:-).
They were pretty good sports watching the performances: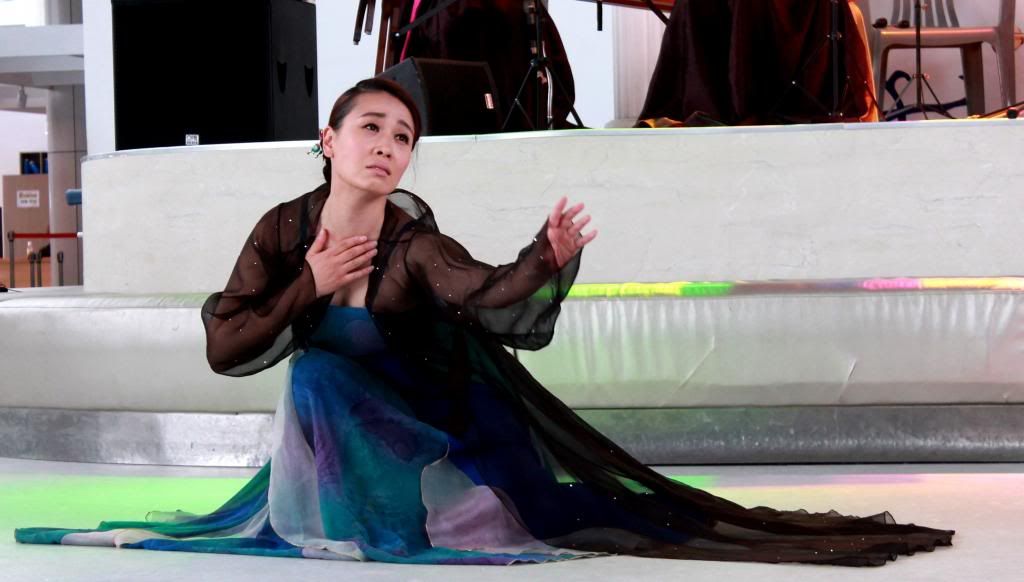 The highlight of the kid's trip was the free ride on the Express train. There are actually two types of trains using the airport railway. One is the non-express train, the interior of which is like the regular subway. The nonstop train's interior is more like an airplane's:
It was as comfortable as you can get. Some kids on the same train as ours were excited to see their songsaengnim perform. Yes, they were there on invitation also and their teacher was one of the performers. What made the ride different was the performance on board the train. Unfortunately for us, we took the last leg of the train. There wasn't enough time anymore for a dance performance on board. We were treated to some music, though.
And of course, my kids were entertained by the scenes out of their window. My Firstborn exclaimed at one point, "Look, Mommy, we look like we're flying".
Indeed, they looked like they were!