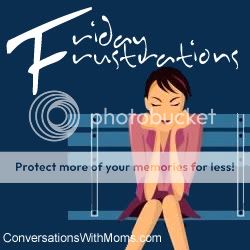 For two weeks, I didn't have a reason to join Maria's Friday Frustrations. Now I have.
My husband is a brilliant and reliable man. That's certain.
This is where the uncertainty lies. He is frequently on a business trip. Frequent means every month he's out of South Korea on a business trip. I smile with happiness if he has a one-night business trip. I frown when he's out for more than a week.
No matter how short or how long the trips are, he brings home something I appreciate. That's certain.
This is where another uncertainty lies. He could be told to go on a trip the day before. He could be told to go on a trip a week before. He could be told to schedule a trip a month before.
And that brings me to this frustration: We can't schedule our family activities with certainty. We had rescheduled our summer vacation a number of times.
Last night, he brought home this news: He was told to stay in the US for a minimum of one month. Together with two of his colleagues, they are tentatively booked to leave on July 27.
Which brings me to a greater frustration: We had rescheduled our summer vacation on July 27. Now, I have to check on flights and packages for July 13. I was hoping for a relaxing time in Guam. Now, it's out of the picture. We have to settle for Kuala Lumpur or Jeju. That I have to check after I finish this entry:-).
And the greatest frustration? I am now at a loss. We had scheduled our family's trip to the Philippines on the second or third week of September in time for my father-in-law's investiture as University President and just in time for me not to be rejected by the airline due to my pregnancy. With my husband's departure on July 27, what do I do here? He could come back by the end of August or by the end of September. That uncertainty also depressed him a little bit last night.
I could go home to the Philippines and live with my parents-in-law until the investiture on September. I could fly to Iloilo where we planned for me to give birth after that. But that would be too long!!! Ughhh! We had just sold our SUV in the Philippines and I can't imagine borrowing my father-in-law's car. Though he owns two (and another two is provided to him as University President), can a daughter-in-law bear a mother-in-law's frequent questioning? Duh. It's theirs and she will have the right to check on their property every now and then. Unbearable. LOL. How can I go back and forth Cabanatuan and Manila without a car? How can I meet friends?
I could ask my mother to come over and be with us for the whole month of August. We could just go home together on September. But this comes to mind: The first time she was here for two weeks, she had to constantly ask when she's going home to the Philippines. The second time she was here with my father, they only stayed for four days. No amount of persuasion made her stay longer to take care of her only grandson. And now I'll ask her to stay here for a month? Bless me! That would be the day.
I'm now ranting longer than I should:-). But if there's any consolation to all this, I'm just reminded once more how lucky I am to have this man as my husband. And how lucky his company is to have his loyalty all through these years.