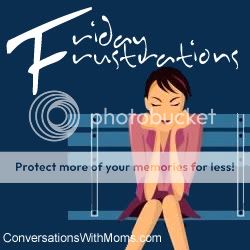 Last week, I decided to join Maria of Conversations with Moms in her Friday Frustrations meme.
The one constant source of stress for me is the television. I know. I know. I have conceded several times in the past how videos have supplemented my son's love for dancing and singing. I love watching him so happy while watching his favorite videos. But too much TV stresses me out. It makes me feel incapable!
But what do I do? My part-time helper comes over only once a week. The rest of the days, I need to cook and clean and do all the other stuffs I need to do. Living and letting my son go around a disorderly house is out of the question. That leaves a lot of time for my son to demand to watch TV. Sometimes I give in because I can't be nagging him all the time about TV, can I?  Sometimes, I don't. That's where the inconsistency lies… and that's where the confusion of my Little Dynamo begins.
Watching television or videos in moderation, that I approve of. But my definition of moderation is much less than the time I need for cooking, washing, cleaning, etc. I feel so sorry for my son, too, who would call out to me to cuddle with him while watching his favorite videos. I am oftentimes overwhelmed with guilt when I allow the television to babysit for my son.
And my husband's definition of relaxation is watching television. Argghhh! I love it when my husband is around. I feel that we can do more as a family… and watching TV is not one of them. I especially hate it whenever my son asks something or perform for my husband but he fails to notice… because he is engrossed by his television-watching. Arghhhh!