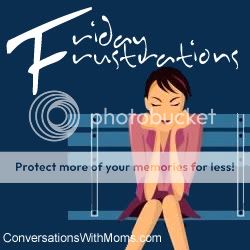 I decided to join Maria of Conversations with Moms in her Friday Frustrations meme.
My first Friday Frustration entry is my seemingly continuing habit of procrastinating… in writing.
I can write in my blog site and I can write about anything that interest me but the kind of writing which demands a lot from my mind seem to be too hard for me to do. Father-in-law asked me to write his speech for Mason's Annual Communication in the Philippines but I realized how hard it was for me to write about issues not concerning my life and my family. It took me days and nights and the not-so-pleasant effect of a stressed face with pimples and a slight fever.
I haven't started writing my promise to Nick Joaquin's nephew and official biographer, Tony Joaquin, about my impressions of the late Philippine National Artist for Literature. He contacted me because of the post I wrote "Remembering Nick Joaquin". I emailed him about my reasons but still… they are just justifications!
And now… the most challenging to date had been staring me in the face for more than a week. My husband's old man is expecting his strategy paper for a university of which he is going to sit as President. I was supposed to finish it this week but… Nothing comes to mind. Hubby is helping me a lot on it already. In fairness to me, his practiced mind also finds difficulty in helping me out. Anyhow, a draft has already been emailed to father-in-law and we are waiting for his remarks and hopefully we could have a clearer direction after that. Whewww!