This month five years ago, Philippines' National Artist for Literature Nick Joaquin died of cardiac arrest. It isn't easy to forget a very interesting man.
My reason for remembering him today is even more personal. He was a huge personality in my life on my first job as a paralegal with the Angara Abello Concepcion Regala and Cruz Law Offices (ACCRALAW). Nick Joaquin was commissioned to write a book for ACCRA and he was to interview the "greats" in Philippine legal history. Among several memorable work experiences, I am eternally grateful for this chance to work with him.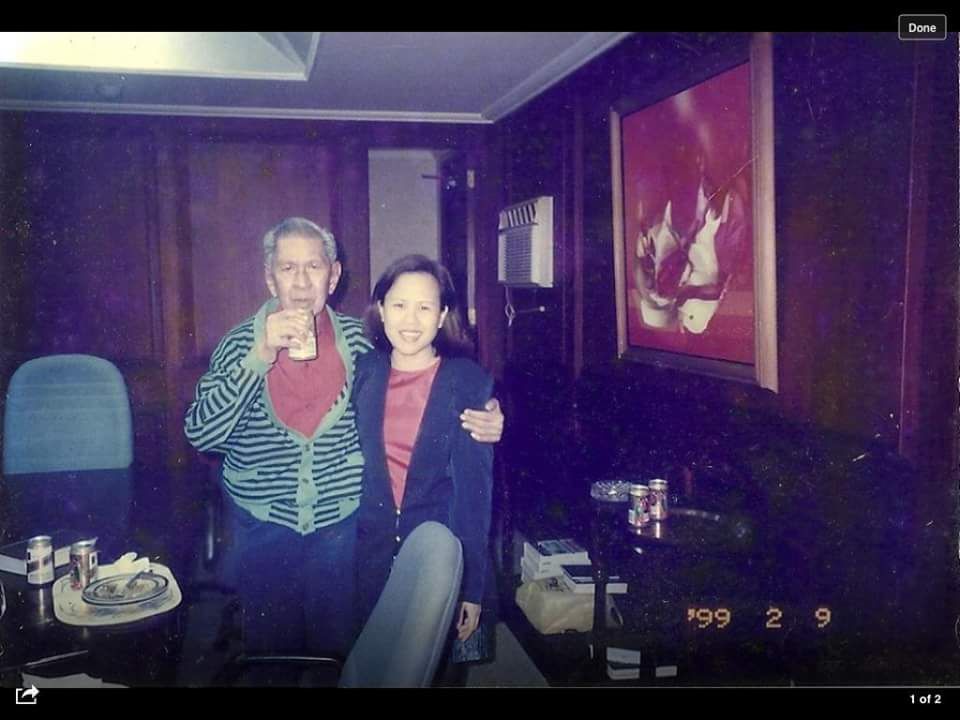 We had a regular Friday afternoon schedule devoted to the interviews. After several Friday afternoons of hours talking on the road and after-interview beers, one would naturally assume that Nick Joaquin would know me by name already. It never happened. He never failed to ask each time we meet, at the very first minute, "Iha, ano nga ang pangalan mo?" or "What's your name again?" He would give out a hearty laugh after I tell him "Wendy po". That never failed. But the great Nick Joaquin could get away with it and could still be endearing. Caloy, his nephew, who would sometimes go with us narrated that a former (Philippine) President went to his house one time and he never went out…  because there was some thing the former President did that he didn't like. To him, they were just neighbors:-). Another story relayed to me was: He cut short his interview with then President Fidel V. Ramos because he was not served his favorite San Miguel beer.
Stories abound about him. I don't think a lot of people know that he had two children, both living in the US. He was separated from his wife. Is this fact about him written somewhere in the internet? From personal experience, he had the shortest interview with Chief Justice Querube Makalintal because he didn't have enough beer. The Chief Justice was already old and sick when we visited him in his house for the interview.
Nick Joaquin just loved ice-cold San Miguel beer. No interview would be interesting and lively without those bottles. Almost everyone seemed to succumb to this peculiarity. The late Vice President Doy Laurel (who, for me, was untarnished until that National Centennial Commission controversy) entertained Nick Joaquin with his stories… and several bottles of San Miguel beer. I still think, he was one of the great statesmen the Philippines has ever produced. I ended up going home with a book on his life with a dedication, "To Wendy, for an afternoon of fun and laughter. Doy." The book is one of my treasures. The interview was in the VP's library in their house. The richness of the VP's library started my obsession to have my own library (still an obsession, to this day). The room was so rich with history (not just the books, but clothes, gift items and more) I think one could learn more about Philippine history there more than one can learn in the classrooms.
Even the highly-esteemed Justice Cecilia Munoz-Palma (the first woman appointed to the Supreme Court) knew about Nick Joaquin's fascination with San Miguel beer. No other beer could compare and it should be ice-cold! Her library was a separate structure from the main house. As with other interviewees who served him beer, the interview didn't end until after an hour. How could a soft-spoken woman become the first woman in the Supreme Court? Important lesson learned: Great legal minds do not always come with loud voices and imposing personalities.
I also went home with another book from the former Chief Justice Andres Narvasa. It was a hard-bound old book of the Agrava Commision. The interview was held in his office at the Supreme Court. Nick Joaquin, knowing that the Chief Justice was known to be fond of Joseph "Erap" Estrada, asked him about "Erap". He said something like "Erap is more intelligent than people think he is". I can't quote him verbatim but his response sounded to that effect. He was obviously very fond of and a good friend of Erap. From then on, I could see nothing positive about the Chief Justice. I didn't feel honored to be in his presence… a few years later he became one of the counsels of Erap.
There were many Nick Joaquin interviews worth remembering… and they make me smile whenever I look back. But it was working with the man himself which topped it all.