My son and I had been reading Ali Baba and the Forty Thieves for several months now. It's one of the stories in the book set I bought from Samsung Books.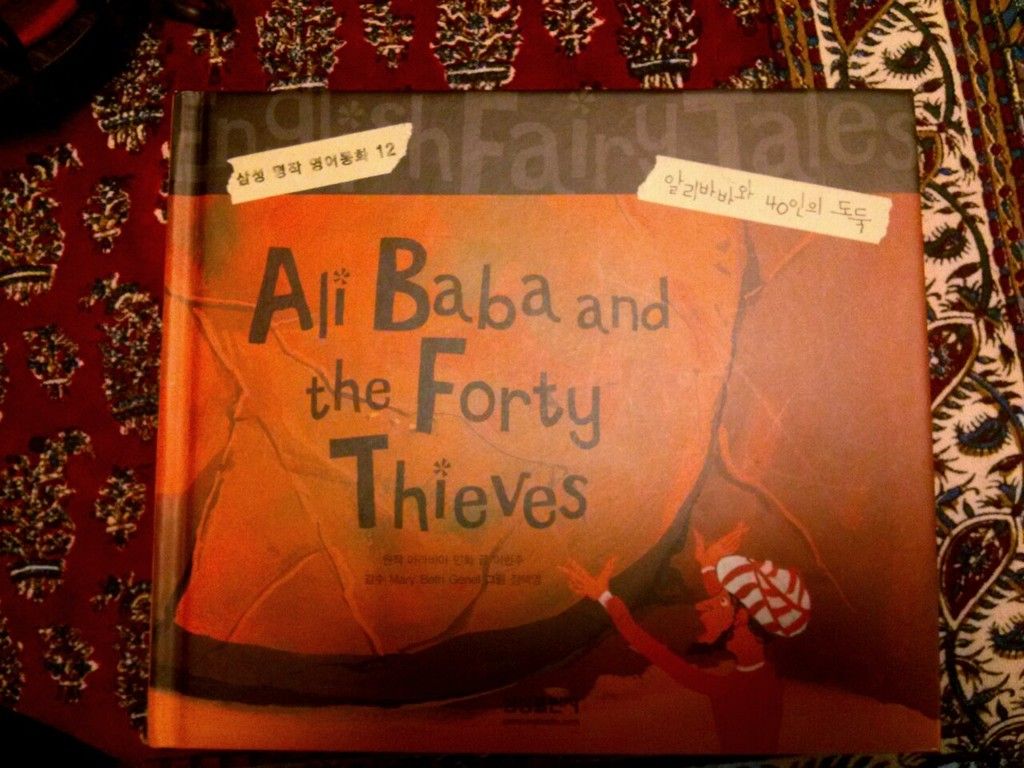 While some children's stories are amusing, others can be quite violent thus, the need for parental guidance in how it is read or narrated. Among the many children's stories that we are reading, I think Ali Baba and the Forty Thieves stands out with its violence. I know it has been a children's story even before I was born so there must be something in it which makes it suitable for children. But as a mother of a two-year old who loves mommy and daddy reading to him, I had been concerned from the first time I read the book to him. To this day, I never read aloud the words "killed him" or any sentence with the word "kill" in it. The violence is not just limited to the words used. As the theme of the story centers on the killings of the thieves, it follows that the illustrations are also violent. For me, it is always disturbing to be on the page where Ali Baba's maid, Morgiana, dances to entertain the chief of the thieves with a knife in each hand and on the next page the readers see her stabbing the chief. Each time my son and I sit down to read this book, I always substitute the violent words or better yet skip them. My son is learning to question some pictures on the books we read and sometimes creates his own stories from the pictures he sees. Oftentimes, when he is by himself, I catch him telling the story the way I tell it to him. So far, he has not learned to question the violent pictures in this book. But upon opening the book, he knows who is Cassim and who is Ali Baba and from then on, he knows how the story unfolds. He even knows that Morgiana puts an X mark on all the houses in the village and that the thieves died inside the jars but has not picked up yet why Morgiana is dancing with knives in her hands and what the picture where Morgiana is stabbing the chief means. It could be because I always downplay these scenes, but for how long?
While children's stories had been there for the longest time, it is still our duty as parents to screen which books to read to our children. I do agree that we should not be overly protective of our children to the point of discarding stories like these. By all means, we read to them. We introduce them to some books with a little violence in it. In fact, it is good to give them "violent" toys (guns, swords) from time to time. I read that toys like these serve to divert their aggressive streak.
So, do I continue to read Ali Baba and the Forty Thieves to my son? Yes, I will. Do I continue to substitute those violent words and downplay/skip those violent illustrations? Yes, I will. I don't have to push him to understand violence.
Time will come, he will raise his own questions. When he does, then I know he is ready for the right answers. Isn't it the same in real life? He will grow to understand things at his own time and on his own pace.
To all mommies out there, have a nice weekend!